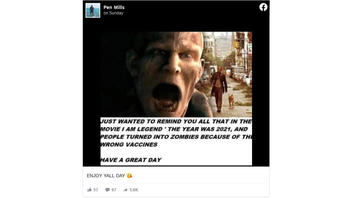 Did the 2007 fictional movie "I Am Legend" tell the story of a population that gets turned into zombies by "the wrong vaccine" in 2021? No, that's not true: The movie is set in 2012, not 2021, and the characters in the movie are not harmed by a vaccine, but a genetically-modified virus meant to cure cancer.
The claim appeared in a Facebook post (archived here) where it was published on March 21, 2021, with the caption "ENJOY YALL DAY." The text pasted onto the photo opened:
JUST WANTED TO REMIND YOU ALL THAT IN THE MOVIE I AM LEGEND 'THE YEAR WAS 2021, AND PEOPLE TURNED INTO ZOMBIES BECAUSE OF THE WRONG VACCINES
HAVE A GREAT DAY
This is what the post looked like on Facebook at the time of writing:
(Source: Facebook screenshot taken on Tue Mar 23 15:44:21 2021 UTC)
The following, starting at 53 seconds, includes the opening scene of "I Am Legend," in which a character describes the genetic engineering of the measles virus to cure to cancer:
The movie is not about a vaccine meant to eradicate a pandemic that ends up harming everyone who receives it, as this Facebook post claims.
What's more, "I Am Legend" is not set in 2021. The majority of the movie is set in 2012, according to the script.
Some 46.4 million people are fully vaccinated in the United States as of this writing, and the U.S. Centers for Disease Control and Prevention reported March 22, 2021, it has followed up on death reports and found no cases in which the vaccine killed a patient.
There have been no reports the COVID vaccines turn people into zombies, which exist only in television and film dramas.