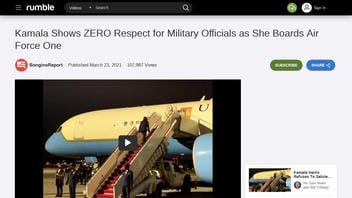 Is Vice President Kamala Harris disrespecting military personnel when she doesn't return their salute as she boards Air Force One? No, that's not true: The vice president is not in the military chain of command. As a civilian, she is not, by protocol, directed to salute, and one expert says a vice president saluting would be "incorrect." A Pentagon spokesman said Harris has made clear her respect for U.S. armed forces.
Among several calling her disrespectful is this video post (archived here) published on Rumble by "BonginoReport" on March 23, 2021. The post, which was titled "Kamala Shows ZERO Respect for Military Officials as She Boards Air Force One," shows Harris climbing stairs to board a plane. Military personnel stand at both sides of the stairs, saluting, even after she is aboard and no one else is standing before them. She does not salute. The post read:
This is hardly shocking coming from a radical Democrat.
Users on social media only saw this title, description and thumbnail:
This is hardly shocking coming from a radical Democrat.
As a civilian, Harris is not in the military chain of command and is not required to return salutes. Army Regulation 600-25 on Salutes, Honors, and Courtesy addresses the question of hand salutes and courtesies in chapter 2. It reads in part:
Civilian personnel, to include civilian guards, are not required to render the hand salute to military personnel or other civilian personnel.
Pentagon Press Secretary John Kirby confirmed that there is no requirement the vice president -- nor the president, for that matter -- salute. In a statement, emailed to Lead Stories on March 24, 2021, he said:
There is no overarching instruction or regulation that requires the President or Vice President to return hand salutes from members of the Armed Forces. Vice President Harris has made very clear her respect and admiration for the men and women of the military, as well as their families.
Kirby continued:
There is no specific requirement for personnel to salute the Vice President, though the Vice President does receive Honors, including cannon firing, Ruffles and flourishes, and specific music, when visiting military installations or participating in formal functions. Finally, the rendering of the hand salute by military personnel is a time-honored tradition and one of the first military lessons installed in new recruits. From their first days in the military, new recruits are taught to salute when they meet more senior leaders -- a common phrase among drill instructors is 'When in doubt, throw it out.' Our troops demonstrate their respect for the nation's senior leaders in many ways; rending a hand salute is one of them.
Nevertheless, some recent vice presidents saluted members of the military, helping to create the impression that it's protocol.
Tom Nichols, a professor at the U.S. Naval War College, weighed in on the custom on Twitter. Far from being a requirement, a vice president saluting would be "incorrect," he claimed. Nichols wrote:
The Commander in Chief returns salutes as a matter of courtesy (a practice started by Reagan), but the VP is a civilian who is not in the chain of command. It would be incorrect for her to salute anyone, and @FoxNews knows this.
If other VPs did it, it was incorrect. https://t.co/62tcIOK5c3

-- Tom Nichols (@RadioFreeTom) March 24, 2021
Indeed, other vice presidents have saluted members of the military. You can watch a 2020 video of former Vice President Mike Pence saluting below:
And here is a video of Joe Biden, when he was vice president, saluting military personnel in 2013:
Not all vice presidents in recent memory gave salutes, however, at least not all of the time. Below is a 2006 video of former Vice President Dick Cheney arriving in Charleston, South Carolina. As you can see, he does not salute.
As both Kirby and Nichols pointed out, it's become customary for the president to salute, although it's not required. Lead Stories has covered that topic before. Our full story can be read here.