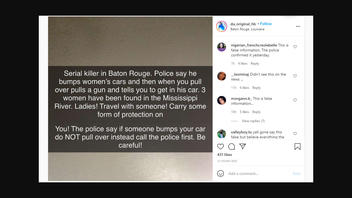 Is there an active serial killer investigation in Baton Rouge, Louisiana, as of April 16, 2021? No, that's not true: Although the body of 18-year-old Louisiana State University student Kori Gauthier was recovered from the Mississippi River on April 13, 2021, authorities concluded there was no evidence of criminal activity or foul play in the case.
The claim appeared in an April 15, 2021, Instagram post (archived here). The text began:
Serial killer in Baton Rouge. Police say he bumps women's cars and then when you pull over pulls a gun and tells you to get in his car. 3 women have been found in the Mississippi River.
Here is how the post appeared on April 16, 2021:
Some of the details in this description are reminiscent of details found in news reports about Gauthier's case: Her car was left running on the Horace Wilkinson Bridge, and many of her personal belongings, including her phone, were found in the car, which had been hit by another vehicle in the early hours of April 7, 2021.
But in an April 16, 2021, email to Lead Stories, Sgt. Don Coppola Jr., a spokesperson for the Baton Rouge Police Department, said there is no group of deaths being investigated as a serial killer case:
We are aware of these allegations that are being spread. At this point in time, there is not anything to support any truthfulness to these allegations. We will continue to monitor these allegations which are believed to be made up.
When asked if any other women's bodies were found in or around the Mississippi River around the time of the email exchange, Coppola Jr. replied:
LSU Police were investigating an apparent suicide. That individuals remains were located in another Parish.