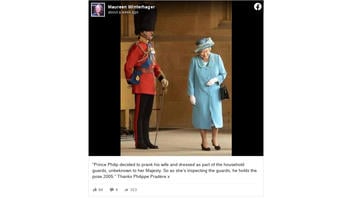 Did Queen Elizabeth laugh at Prince Philip pranking her dressed as a palace guard? No, that's not true: Queen Elizabeth II was photographed in 2003 laughing while standing next to her husband but he did not trick her by dressing up as one of the household guards, causing her to crack up.
He was officially escorting her wearing his full dress uniform to an event when an unexpected swarm of bees descended upon the castle, the original photographer explained in an interview with the BBC. The royal couple shared a laugh about the bees, not him dressing as a house guard. A photograph of the chuckling monarch at the event published in a Canadian newspaper in 2003 clearly explained the situation.
The claim appeared as a Facebook post (archived here) on April 13, 2021. It opened:
"Prince Philip decided to prank his wife and dressed as part of the household guards, unbeknown to her Majesty. So as she's inspecting the guards, he holds the pose.2005." Thanks Philippe Pradère x
This is what the post looked like on Facebook on April 16, 2021:
(Source: Facebook screenshot taken on Fri Apr 16 17:56:59 2021 UTC)
Chris Young of the Associated Press took the 2003 photograph of the queen and her husband before a ceremonial review of the Grenadier Guards at Windsor Castle.
From Young's interview with the BBC:
It was at this point Young became aware of a swarm of bees.
"I got lucky," says Young, recalling the event 18 years later. "I recognised that it was a human moment. She was giggling like a little girl and he was laughing too.
"I thought the reaction from both of them was pretty unique.
"Some of the guests were unsure as to whether they should move, but eventually everyone had to beat a retreat."
A royal beekeeper was swiftly summoned to sort things out.
A photograph of the Queen and the Duke of Edinburgh appeared in the Edmonton Journal on April 16, 2003.
16 Apr 2003, Wed Edmonton Journal (Edmonton, Alberta, Canada) Newspapers.com
The caption read:
Queen Elizabeth giggles as she and Prince Phillip watch bees swarm around guests on the lawn of Windsor Castle, west of London, on Tuesday, just before the Queen's Company Grenadier Guards ceremonial review. A beekeeper removed the swarm before the ceremony started.
As a colonel of the Grenadier Guards' elite Queen's Company regiment, Prince Philip was often photographed in his full uniform, as images in the Getty catalogue show.
Prince Philip passed away on April 9, 2021. He was 99 and was married to Queen Elizabeth for 73 years.