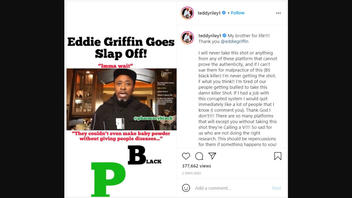 If COVID-19 is airborne would everybody have caught it by now? A viral video with an anti-vaccine message peddles false information about the coronavirus outbreak, throwing doubt on the authenticity of the virus by stating, "If it is airborne everybody'd've caught it already." COVID-19 is airborne but the amount of virus in the droplets that are expelled make it unlikely that every single person exposed to every level of virus would get infected, according to an infectious disease specialist at UCLA.
The claim appeared as a video (archived here) where it was published on Instagram on May 2, 2021. It opened:
India's got the most cases, America's the most vaccinated. Of course America's the most vaccinated. These motherfuckers are easy to brainwash.
Social media users saw this thumbnail on Instagram: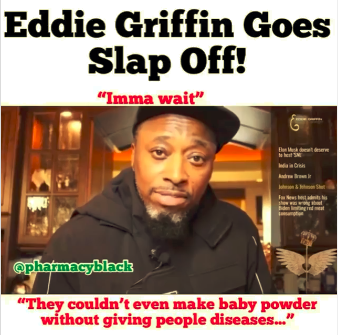 (Source: Instagram screenshot Mon May 3 08:52:57 UTC 2021)
The Instagram account of musician Teddy Riley posted this caption along with a video:
I will never take this shot or anything from any of these platform that cannot prove the authenticity, and if I can't sue them for malpractice of this (BS black killer) I'm never getting the shot. F what you think!! I'm tired of our people getting bullied to take this damn killer Shot. If I had a job with this corrupted system I would quit immediately like a lot of people that I know (i comment you). Thank God I don't!!!! There are so many platforms that will except you without taking this shot they're Calling a V!!!! So sad for us who are not doing the right research. This should be repercussions for them if something happens to you! Think about it!🤔"

The video is from comedian Eddie Griffin, who has given interviews about his beliefs on the virus. In it he explains that he is not getting a vaccine for COVID-19 and says he is skeptical about the actual spread of the virus. He makes this false claim about COVID-19 not being as contagious as it actually is:
If it is airborne everybody'd've caught it already. Think about that."
Dr. Otto Yang, a UCLA researcher whose specialty is infectious disease, explained over the phone to Lead Stories on May 3, 2021 why everyone doesn't get the COVID-19 virus even though it is airborne.
It depends on how much is airborne. Everything is probabilities. It is airborne but how much is airborne or how much is in the secretions that come out the respiratory tract is what matters."
He used measles and tuberculosis as examples of a spectrum with COVID-19.
Measles is very contagious, if a person is in a room with someone who is infected, within 10 minutes there is a 100% chance you will become infected if you are not inoculated against measles. Tuberculosis is also airborne, but if you were in the same room with someone with it and you were not inoculated against it the chances are significantly smaller than that.

The way you can think about it is there is a certain amount of virus concentration in fluids coming out of your mouth and lungs. There is a spectrum of the size of these droplets that come out.

If something is airborne it can be transmitted through drops that are so small, so fine, they can float in the air for long distances and long times.

Droplet - that means there is only enough of the virus in the fairly large drops that do not float but land a certain distance (usually within a few feet, that's why there is a 6 foot recommendation).

The question is whether there is enough virus in the drop they inhaled to get infected. Measles present in huge high concentrations even the smallest mist particles have enough virus for someone to get infected. Tuberculosis you don't have a high concentration in the particles.

COVID-19 is along the spectrum. Yes, enough virus can be transmitted airborne, but it is not efficient because there isn't a huge amount of the virus in the droplets that get expelled. The COVID-19 concentration is not as high as measles. Not all the very fine airborne mist droplets will have the virus.

You're playing the lottery if you're around someone who is infected with COVID-19. You have to inhale enough of the virus to get infected."
The U.S. Centers for Disease Control's information sheet on airborne transmission points out the same mechanism of infection and notes that most infections occur from close contact, which is why masks, social distancing and quarantines have been the major public health responses to the pandemic.
Lead Stories debunked the claim that the COVID-19 virus doesn't exist here and other false claims about the vaccines here.