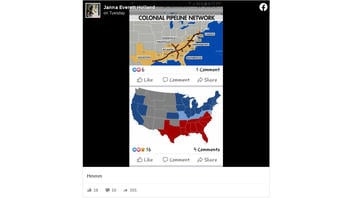 Is the scope of the Colonial Pipeline shutdown somehow related to whether states are red or blue? No, that's not true: There's no connection between the shutdown and whether states are Democratic or Republican. The system spans more than 5,500 miles between Texas and New Jersey, an area that includes states of both political persuasions. In May 2021, the pipeline was shut down for six days because of a ransomware attack.
The claim was implied in a Facebook post (archived here) on May 11, 2021. The post included two maps stacked on top of each other. One showed the pipeline system, while the other appeared to be an incomplete electoral map of the United States, with states colored to represent the different parties. The post was captioned:
Hmmm
This is what the post looked like on May 13, 2021:
(Source: Facebook screenshot taken on Thu May 13 15:47:45 2021 UTC)
The post's maps look similar, with the system map appearing to copy the red area of the incomplete electoral map, or vice versa.
Taken together, the two maps and the caption seem to suggest a connection between the pipeline and whether states are red or blue. That's not true.
For starters, the post's electoral map is not accurate. The map shows both Georgia and Virginia as red, or Republican, even though both states voted for the Democratic presidential candidate in the last election. See here for an up-to-date depiction of the 2020 electoral map.
Also, there's no evidence that states' political persuasions would have any influence on the pipeline or that the shutdown was purposefully targeting particular states. The shutdown impacted all pipeline operations, which span more than 5,500 miles between Texas and New Jersey. The disruption was caused by a ransomware attack and resulted in widespread gas shortages.
Lead Stories has debunked false claims related to the shutdown before. See here, here and here for those stories, in which we found that the United States was not energy independent four months ago and that old and unrelated images were being used to illustrate the shortages.