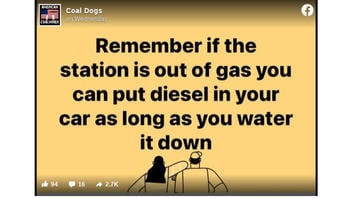 If the gas station is out of gas, can you put diesel in your car as long as you water it down? No, that's not true. "Water and internal combustion gasoline engines are not compatible," Andrew Gross, AAA spokesperson, told Lead Stories. Amid the gas shortage due to the Colonial Pipeline shutdown, Americans are being warned not to water down diesel gas to replace non-diesel gas.
The claim appeared as a Facebook post (archived here) on May 12, 2021. It opened:
Remember if the gas station is out of gas you can put diesel in your car as long as you water it down.
This is what the post looked like on Facebook on May 13, 2021:
(Source: Facebook screenshot taken on Thu May 13 19:01:33 2021 UTC)
The Colonial Pipeline shutdown following a cyberattack had repercussions at gas stations on the East Coast but the American Automobile Association does not recommend taking drastic measures like watering down diesel fuel with water as a substitute for non-diesel fuel. The pipeline was restarted on May 12, 2021.
"You cannot water down diesel gasoline and put it in your non-diesel, regular gasoline vehicle," Gross told Lead Stories via email on May 13, 2021. "There is a reason the diesel nozzle is too big to fit in a standard gasoline car. It is to prevent someone from accidentally using diesel versus a higher octane regular gasoline. Your car may run for a short time before the engine stalls, and then you will be stranded. And at that point, you will probably need to call AAA."
He shared key points about automobile maintenance:
Using any fuel that the manufacturer does not recommend will void the warranty.

Water and internal combustion gasoline engines are not compatible.

Too much water in an engine will result in damaging the internal components of an engine. This is commonly referred to as hydrolock.

The fix will be to rebuild or replace the engine, which will cost thousands of dollars.

Consult your owner's manual to understand what type of fuel is required for your specific vehicle.
Gross also shared other concerns people have had amid the gas shortage. "It IS OK to use premium gas in a car that usually runs on regular gas. It will not damage the engine. However, if your vehicle calls for using premium only, you should use regular only in a pinch, and not long term. This will cause issues over time with your car."
Lead Stories has debunked claims about putting gasoline in plastic bags here and here as well as the false claims that the Keystone Pipeline is shut down and caused the gas shortage on the East Coast here and that it was just about completed when President Joe Biden stopped it here.