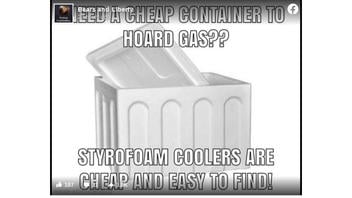 Are Styrofoam picnic coolers a cheap, easy-to-find container to hoard gasoline in? No, that's not true: Styrofoam (extruded polystyrene) melts almost instantly when it comes in contact with gasoline, so this would be impractical, dangerous and illegal.
These memes began to appear on social media in mid-May 2021 when some people were hoarding gasoline after the Colonial Pipeline was shut down by a ransomware attack. One post (archived here) published on May 13, 2021, read:
NEED A CHEAP CONTAINER TO HOARD GAS

?? STYROFOAM COOLERS ARE CHEAP AND EASY TO FIND!
This is what the post looked like on Facebook on May 14, 2021:
(Source: Facebook screenshot taken on Fri May 14 17:08:02 2021)
The Occupational Safety and Health Administration says:
Only approved containers and portable tanks shall be used for storage and handling of flammable and combustible liquids. Approved safety cans or Department of Transportation approved containers shall be used for the handling and use of flammable liquids in quantities of 5 gallons or less.
The federal code pertaining to fuel containers is here.
The Consumer Product Safety Commission tweeted about gasoline container safety issues on May 12, 2021.
We know this sounds simple, but when people get desperate they stop thinking clearly. They take risks that can have deadly consequences. If you know someone who is thinking about bringing a container not meant for fuel to get gas, please let them know it's dangerous.
-- US Consumer Product Safety Commission (@USCPSC) May 12, 2021
Another version of the sarcastic meme posted to Facebook said, "If you don't have a gas can use a foam cooler. They're much sturdier than bags." Lead Stories in May 2021 wrote about (here and here) two 2019 images of people apparently filling plastic bags with gasoline, which had gone viral again.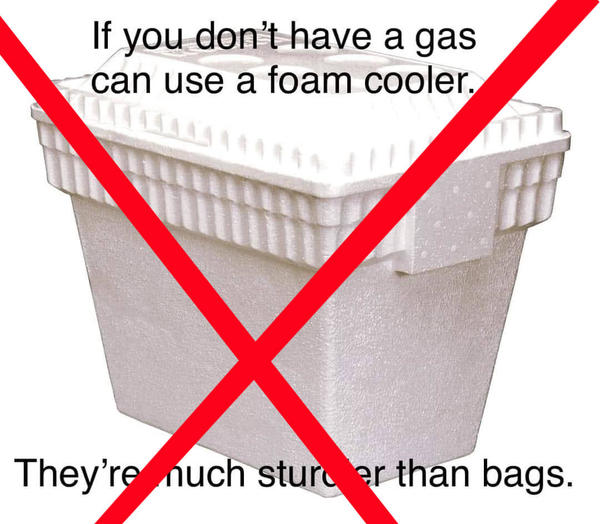 (Source: Lead Stories graphic from Facebook Screenshot Fri May 14 18:09:54 2021 UTC)
The video embedded below shows how rapidly gasoline dissolves plastic foam and turns it to a gooey jelly-like substance. Gasoline and polystyrene are also ingredients in the incendiary weapon Napalm B.