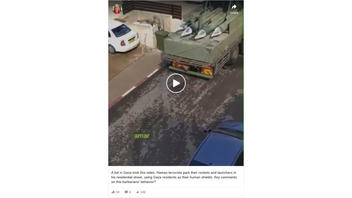 Did a child in Gaza capture a video of members of Hamas, a Palestinian political and militant group, driving a truck loaded with rocket launchers through a residential street in Gaza? No, that's not true: The video, which first appeared in 2018, shows the town of Abu Snan in the northern region of Israel, and the truck contains large missiles, not rocket launchers.
The claim appeared in a Facebook post (archived here) on May 13, 2021. The caption read:
A kid in Gaza took this video. Hamas terrorists park their rockets and launchers in his residential street, using Gaza residents as their human shields. Any comments on this barbarians' behavior?
This is what the post looked like on Facebook on May 14, 2021:
(Source: Facebook screenshot taken on Fri May 14 16:38:42 2021 UTC)
Posted during the May, 2021 conflict between Hamas and Israel over disputed holy sites in Jerusalem, the implication is it documents events in that contact.
Twitter users started looking into the video on May 12, 2021, when it appeared in a since-deleted tweet (archived here) by Twitter page @StopAntisemites. The same video was identified by Twitter user @TaylorPBrooks, who identifies himself as a cyber threats expert at global consulting firm Booz Allen Hamilton, on May 12, 2021, as a video posted to Facebook on November 25, 2018. Brooks' tweet (archived here) is embedded below:
Here's the video from 11/25/18 showing the truck in Abu Sanan, Israel https://t.co/0WhdOpQhSi

-- Taylor P. Brooks (@TaylorPBrooks) May 12, 2021
The original video was posted by the Facebook page of MivzakLive, described as a media and news company. The English translation of the video's caption (originally in Hebrew) stated:
Trucks with ′′ missiles ′′ were wrong on their way and entered the village of Abu Sanan in the north.
Photography: amar
A screenshot of the post is below: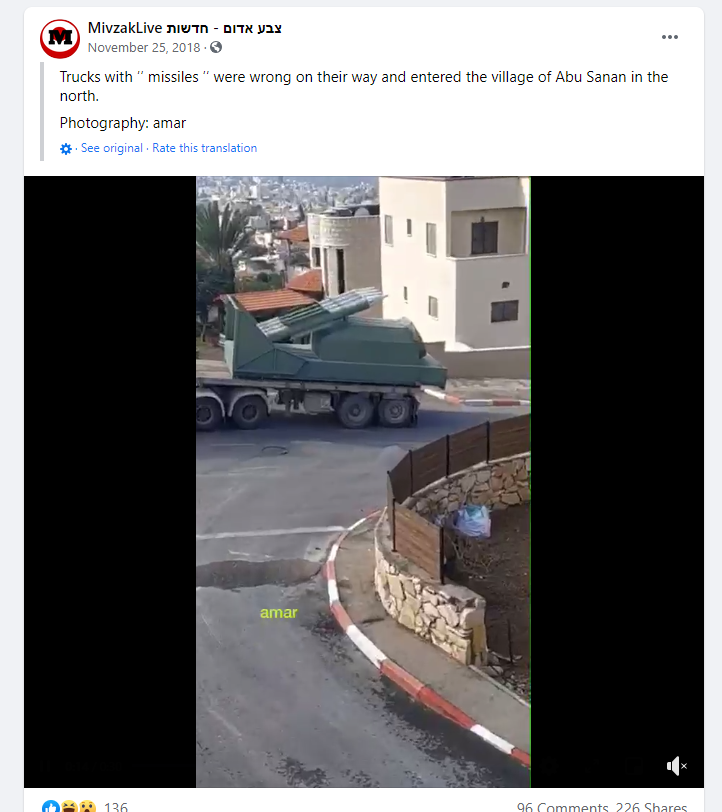 (Source: Facebook screenshot taken on Fri May 14 16:34:52 2021 UTC)
The exact location of the video was identified by Twitter user @AKMcKeever. The tweet (archived here) is included below:
32.962718, 35.180978 https://t.co/GDKvFNPw3M pic.twitter.com/OtHHRrBEyi

-- Alexander McKeever (@AKMcKeever) May 12, 2021
The May 2021 conflict between the Israeli government and Palestinians has spawned plenty of misinformation. Lead Stories has debunked other videos (here and here) misattributed to the conflict.