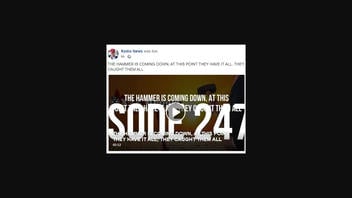 Does the latest "X22 Report" video contain only true and accurate claims? No, that's not true: The video recycles falsehoods circulated by QAnon conspiracy theorists and contradicted by credible publicly available documentation. Among the debunked claims are that the 2020 election was rigged, that Donald Trump won in a landslide and that hydroxychloroquine and zinc are a cure for COVID-19. The video does not provide authentication of assertions that have been disproved by recognized experts in the relevant specialties.
The new QAnon video appeared as a Facebook post (archived here) on May 13, 2021. Titled "THE HAMMER IS COMING DOWN, AT THIS POINT THEY HAVE IT ALL, THEY CAUGHT THEM ALL," the video opens with a narrator claiming:
The deep state, the mainstream media, the Fake News, the corrupt politicians, they realize that everything's starting to fall apart. They realize that their cheating, their treasonous crimes, well, they're going to be exposed.
This is what the post looked like on Facebook on May 14, 2021:
The video's overarching claim is the existence of a dark and nefarious "Deep State," of embedded anti-Trump bureaucrats supported by corrupt politicians, people in mainstream media and more. The belief is a central pillar in the oft-debunked QAnon theory, which holds that Trump is battling the secret group of power-mad pedophiles for what amounts to the soul of America.
There's no evidence the cabal exists and the roughly 40-minute video does not present any proof to the contrary. It takes the theory as fact and bases subsequent statements on it, demonstrating a circular argument. For example, at 1 minute, 25 seconds, the narrator says:
When the first state falls, when the first election fraud results are put out into the public realm, this is just the beginning. Other states, other counties, they will follow, and they will question the elections. This is about bringing all of this out to the American people -- showing them how the deep state system, how it actually works, and what they did, what they knowingly did, to rig the elections.
Lead Stories has reviewed dozens of election fraud claims since the November 2020 vote and found no public evidence of widespread or outcome-changing fraud. Trump's Attorney General William Barr declared as much in a Fox News report here; state and federal courts have rejected dozens of lawsuits claiming election fraud. The Cybersecurity & Infrastructure Security Agency (CISA) has described the 2020 election as the "most secure in American history." You can read the agency's statement here.
The video combined claims about the election with false claims about immigration. At 10 minutes, 13 seconds, the narrator says:
I do believe this means that the real reason they want to open borders is for the illegals to have the ability to vote.
In order to vote in U.S. elections, you need to be a U.S. citizen. People who are in the country illegally, even permanent legal residents, are not permitted to cast a ballot and lack the required documents to register to vote in most jurisdictions.
At 37 minutes, 19 seconds, the narrator claims:
Remember, Trump won by a landslide.
That's not true. In addition to winning the Electoral College vote, which Congress certified, President Joe Biden won the popular vote, receiving 81,284,666 votes to Trump's 74,224,319, according to the certified results provided by election offices from Republican and Democratic states.
The video also makes a number of unsubstantiated claims related to COVID-19. Reading tweets posted by "@BLUEPRINT_Q," the narrator says at 21 minutes, 7 seconds:
HCQ plus zinc proven to dramatically reduce hospitalizations and cure COVID infection.
HCQ is a reference to hydroxychloroquine. It is not an approved drug treatment for COVID-19, which has no known cure. See here for our previous debunk of the claim that hydroxychloroquine, zinc and Zithromax are a cure for COVID-19. The Food and Drug Administration (FDA) has only approved one antiviral drug called remdesivir (Veklury) and authorized other treatments for emergency use. See here for the FDA's explanation of current options.
Still reading from "@BLUEPRINT_Q"'s tweets, the narrator continues, at 21 minutes, 16 seconds,
Cloth and surgical masks proven to increase COVID infection and spread.
Global health experts have repeatedly stressed the importance of wearing masks to help limit the spread of the disease, as can be seen here and here and multiple studies have demonstrated mask-wearing slows the spread of COVID-19. Complicating the matter, the Centers for Disease Control and Prevention (CDC) updated its guidance on May 13, 2021, when CDC Director Rochelle Walensky told reporters during a virtual White House press briefing that fully vaccinated people can now participate in both indoor and outdoor activities without wearing a mask. That decision, she said, was based on science, including the data on vaccine effectiveness.
Dr. Anthony Fauci, director of the National Institute of Allergy and Infectious Diseases, was also at that briefing. The video's narrator made several claims about him. At 22 minutes, 12 seconds, the narrator says:
Fauci, he knew that hydroxychloroquine back in 2005, would cure all of this.
That's another false allegation that Lead Stories has debunked before. See here for our story, in which we found that Fauci did not say that hydroxychloroquine was both a cure and a vaccine for coronavirus.