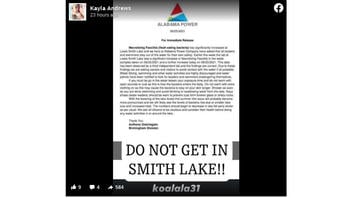 Did the Alabama Power Company issue a press release warning boaters and swimmers to stay out of the company's Lewis Smith Lake because flesh-eating bacteria is present? No, that's not true: The Alabama Power Company released a statement directly debunking this post and its fake news release. Although the post is made to look like an official company document, the signature -- "Anthony Gotchagain" -- is a clear giveaway that the document is not genuine.
This claim appeared in a Facebook post (archived here) published on June 28, 2021. The bolded text of the post reads:
DO NOT GET IN SMITH LAKE!!

Koalala31
Behind the bolded text is what appears to be a blurred image of a press release by the Alabama Power Company. The text began:
Necrotizing Fasciitis (flesh eating bacteria) has significantly increased at Lewis Smith Lake and we here at Alabama Power Company have asked that all boaters and swimmers stay out of the water for their own safety.
This is how the post looked on June 29, 2021: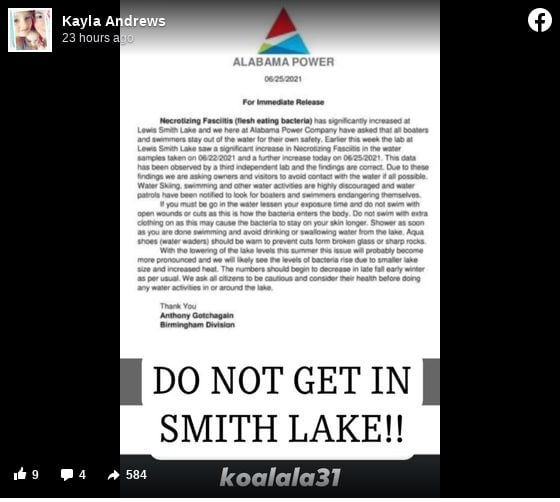 (Source: Facebook screenshot taken on Tue Jun 29 22:20:29 2021 UTC)
The text continued:
Earlier this week, the lab at Lewis Smith Lake saw a significant increase in Necrotizing Fasciitis in the water samples taken on 6/22/21 and a further increase today on 6/25/21. This data has been observed by a third independent lab, and the findings are correct. Due to these findings, we are asking owners and visitors to avoid contact with the water if at all possible. Water Skiing, swimming, and other water activities are highly discouraged and water patrols have been notified to look for boaters and swimmers endangering themselves.
If you must be go in the water, lessen your exposure time and do not swim with open wounds or cuts as this is how the bacteria enters the body. Do not swim with extra clothing on as this may cause the bacteria to stay on your skin longer. Shower as soon as you are done swimming and avoid drinking or swallowing water from the lake. Aqua shoes (water waders) should be warn to prevent cuts from broken glass or sharp rocks.
With the lowering of the lake levels this summer, this issue will probably become more pronounced, and we will likely see the levels of bacteria rise due to smaller lake size and increased heat. The number should begin to decrease in late fall early winter as per usual. We ask all citizens to be cautious and consider their health before doing any water activities in or around the lake.

Thank you
Anthony Gotchagain
Birmingham Division
Not only are there multiple spelling and grammatical errors in the text, but the signature "Anthony Gotchagain" is suspiciously close to Gotcha Again.
Danielle Kimbrough, a public relations representative with Alabama Power Company, responded to Lead Stories via email on June 29, 2021, by writing:
A prank Facebook post warning residents to stay out of Smith Lake this summer is fake. Smith Lake and the rest of our company's lakes around Alabama are open as normal. We encourage visitors to observe the usual safety guidelines.
https://alabamanewscenter.com/2021/06/29/scam-alert-facebook-post-targets-smith-lake-boaters-swimmers/
The link included in Kimbrough's email goes to a more detailed item on the company's "NewsCenter" site:
Alabama Power says Smith Lake and the rest of its lakes around Alabama are open as normal and encourages visitors to observe the usual safety guidelines.
Lewis Smith Lake is part of Alabama Power Company's hydroelectric system of reservoirs and recreational waterways. Smith Lake was completed in 1961 and named after one of the company's former presidents.
According to the Centers for Disease Control and Prevention, necrotizing fasciitis is "a rare bacterial infection that spreads quickly in the body and can cause death. Accurate diagnosis, rapid antibiotic treatment, and prompt surgery are important to stopping this infection."