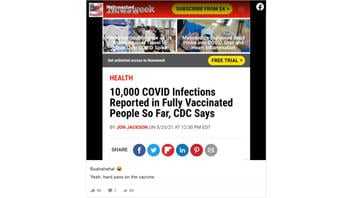 Does a screenshot of a Newsweek headline tell the whole story about 10,000 COVID infections reported in fully vaccinated people? No, this headline has been intentionally separated from the Newsweek article that describes what the CDC reported on May 25, 2021, about the incidence of "breakthrough infections" in the first four months of the year.
The Newsweek article was published on May 25, 2021, and screenshots of the article's headline began to circulate soon after. This post was published on Facebook on May 26, 2021, with the caption, "Buahahaha! 😂 Yeah, hard pass on the vaccine." The main text of the screenshot which features the Newsweek banner says:
Health
10,000 COVID Infections Reported in Fully Vaccinated People So Far, CDC Says
By Jon Jackson on 5/25/21 at 12:30 PM EDT
This is what the post looked like on Facebook at the time of writing:
(Source: Facebook screenshot taken on Thu Jun 24 16:20:36 2021 UTC)
The full Newsweek article from May 25, 2021, explains the findings released that day by the CDC in a report titled, "COVID-19 Vaccine Breakthrough Infections Reported to CDC -- United States, January 1-April 30, 2021." That the vaccines are not 100% effective was not a surprise. This report was not breaking disappointing news that the vaccines are not preforming as expected, rather it was to share the information that had been gathered in the first four months of 2021. Because there were still parts of the country experiencing high levels of COVID-19 transmission, it was anticipated that some breakthrough cases would be discovered. Newsweek reported:
The CDC's data showed a total of 10,262 vaccine breakthrough infections from 46 U.S. states and territories out of about 101 million people who had been fully vaccinated by the time of the April 30 findings.
Newsweek's article also highlighted this quote from the CDC report:
Even though FDA-authorized vaccines are highly effective, breakthrough cases are expected, especially before population immunity reaches sufficient levels to further decrease transmission. However, vaccine breakthrough infections occur in only a small fraction of all vaccinated persons and account for a small percentage of all COVID-19 cases. The number of COVID-19 cases, hospitalizations, and deaths that will be prevented among vaccinated persons will far exceed the number of vaccine breakthrough cases.
The CDC report pointed out that because it is common for the breakthrough cases in vaccinated people to be asymptomatic, the number was likely higher:
The findings in this report are subject to at least two limitations. First, the number of reported COVID-19 vaccine breakthrough cases is likely a substantial undercount of all SARS-CoV-2 infections among fully vaccinated persons. The national surveillance system relies on passive and voluntary reporting, and data might not be complete or representative. Many persons with vaccine breakthrough infections, especially those who are asymptomatic or who experience mild illness, might not seek testing. Second, SARS-CoV-2 sequence data are available for only a small proportion of the reported cases.
The CDC website has a fact sheet about breakthrough cases, which was last updated on April 21, 2021. It says:
COVID-19 vaccines are effective. However, a small percentage of people who are fully vaccinated will still get COVID-19 if they are exposed to the virus that causes it. These are called "vaccine breakthrough cases." This means that while people who have been vaccinated are much less likely to get sick, it may still happen. Experts continue to study how common these cases are.
At the time this report was released the CDC announced that going forward they would only be monitoring and investigating breakthrough cases which result in hospitalization or death. The latest information on that was reported on June 14, 2021.