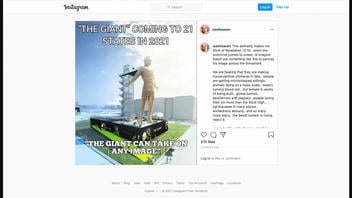 Are 'giant' sculptures going to be built in 21 states in 2021? No, that's not true: The company creating them plans to use the structures to showcase quasi-animated images of heroes, athletes and celebrities once they have found investors in 21 cities that would want one.
The claim originated in an Instagram post (archived here) on June 14, 2021, by Instagram user iseeheaven with the title "'THE GIANT' COMING TO 21 STATES IN 2021 'THE GIANT CAN TAKE ON ANY IMAGE.'"
A short video on The Giant's website shows that the creators plan to emulate the popular Isaac Newton quote: "If I have seen further it is by standing on the shoulders of Giants" by letting visitors literally see from the shoulder level of the Giant onto which visitors' images can be project along with the images of famous persons.
According to the website, each model takes 18 months to build, so it's not possible for even one of them to be up before 2021 ends.
In their press release, a consultant for Coldwell Banker Richard Ellis (CBRE) Ireland, a real estate company, said regarding locations and investors for The Giant:
We're looking for prime locations and we are also open to more off-beat sites that need to drive footfall. We are very excited to be working on this project sourcing sites in 21 cities around the world. Our immediate priority is securing appropriate locations and from there finding investors who will see the huge benefits of situating this iconic attraction in their city.
Lead Stories reached out to The Giant Company on June 15, 2021, to ask about their upcoming plans for 2021 and we will update this, as appropriate, if they reply.