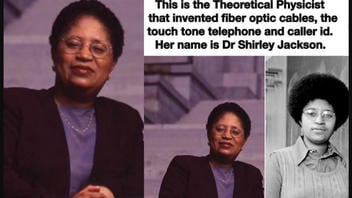 Did theoretical physicist Shirley Jackson invent fiber-optic cables, the touch-tone phone and caller ID? No, that's not true: All of these were invented by other people. Although her professional accomplishments and accolades are many, she did not invent those telecommunication advances as a post claims, nor did she invent call waiting, the portable fax machine or the solar cell, which are also commonly attributed to her in social media memes.
What is true is that Jackson was the first Black woman to earn a doctorate from the Massachusetts Institute of Technology, in 1973. She worked at Bell Labs for 15 years starting in 1976, where she did groundbreaking work in several research departments. In 1995 she was appointed by President Bill Clinton to serve as the chairman of the U.S. Nuclear Regulatory Commission. She worked to establish the International Nuclear Regulators Association. Since 1999 she has been the president of Rensselaer Polytechnic Institute. In 2016, Jackson was awarded the National Medal of Science by then-President Barack Obama.
The claims that Jackson invented these telecommunication advances have circulated in memes and short articles online for many years. One example is this Facebook post (archived here) from June 3, 2021. The caption reads:
This is the Theoretical Physicist that invented fiber optic cables, the touch tone telephone and caller id.
Her name is Dr Shirley Jackson.
This is what the post looked like on Facebook at the time of writing: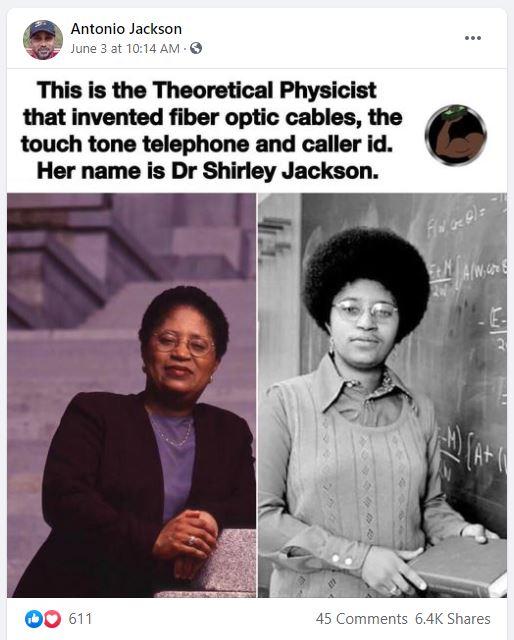 (Source: Facebook screenshot taken on Wed Jun 09 14:06:13 2021 UTC)

Jackson did not invent the technologies listed in the meme. Biographical information detailing her accomplishments never mention these specific telecommunication breakthroughs. Jackson was inducted into the National Women's Hall of Fame in 1998. The biography, which speaks of her academic and administrative accomplishments as well as the awards and 45 honorary doctoral degrees she holds, does not even mention her time at Bell Labs. It says in part:
A renowned physicist, Dr. Jackson was appointed Chairman of the United States Nuclear Regulatory Commission (NRC) in 1995 by President Clinton. While there, she enhanced the commission's regulatory effectiveness and initiated a bottom-up strategic assessment of all NRC activities. As the first African American woman to serve on the NRC and the first woman and African American to lead the entity, Dr. Jackson reaffirmed that agency's commitment to public health and safety.
An October 10, 2018, blog article on bell-labs.com titled "Celebrating the women researchers of Bell Labs" features eight brief biographical sketches of women whose work played an important part in the history of Bell Labs and in the sciences. Each answers two questions, "Who is she and what is she known for?" and "What is the impact?" In Jackson's, the answer to the second question has no mention of the technologies from the meme:
Jackson's research has contributed to the fields of charge density waves in layered compounds. Her work explores the polaronic aspects of two-dimensional electron systems and the channeling of heavy ions in solids and semiconductors. Her expertise has been recognized with several honors and leadership positions. In 1995, Jackson was appointed chair of the Nuclear Regulatory Commission (NRC) during President Clinton's term in office and in 2014, she served on President Barack Obama's Council of Advisors on Science and Technology and was co-chair of the President's Intelligence Advisory Board. Her work at the NRC promoted risk management of nuclear plants at both the national and international level. In 1999, Jackson became the 18th president of Rensselaer Polytechnic institute, the first woman and African American to hold this position. In 2012, she became an International fellow of the Royal Academy of Engineering (FREng) and in 2014 was awarded the National Medal of Science. She continues to advocate for underrepresented students achieving higher education.
In an oral history interview conducted by the American Institute of Physics (transcribed here), Jackson speaks about her technical research at Bell Labs. She seems to touch on the claims in the meme when she mentions "call waiting and so on" but she clarifies that she did not invent these things:
You could tailor the optical response and the optoelectronic response of these materials, primarily germanium silicon, as well as looking at magnetic polarons, and their effect on optoelectronic material. So I have this whole body of work on these things, and people talk about my having some involvement in creating call waiting and so on. And I think somebody put together something thinking she worked for the telephone company ... she worked on these semiconductors. And you could argue that this kind of thing undergirded different kinds of device systems. But my job was never to invent a given device. But there is a body of work that I'm known for in these areas.
On May 19, 2016, President Barack Obama awarded Jackson the National Medal of Science. The White House Archives describes it as for:
Her insightful work in condensed matter physics and particle physics, for her science-rooted public policy achievements, and for her inspiration to the next generation of professionals in the science, technology, engineering, and math fields.
Lead Stories has reached out by email to the media contact at Rensselaer Polytechnic Institute for further information regarding possible connections between Jackson's work at Bell Labs and advances in these technical innovations and will update if we receive a reply.
In 1954 Bell Telephone

Laboratories

applied for a patent titled, "Solar energy converting apparatus."
In 1961 Bell Telephone

Laboratories

applied for a patent titled, "Call awaiting signal telephone circuits."
In 1961 Shintaro Asano made tremendous improvements to the fax machine. The original concept was invented by Alexander Bain in 1843.
Bell made touch-tone phones available to the public in certain areas of Pennsylvania on November 18, 1963.
In 1970 Corning Glass researchers Robert Maurer, Donald Keck, and Peter Schultz developed "Optical Waveguide Fibers" (patent #3,711,262)
In 1974 a U.S. patent was issued to Theodore Paraskevakos, a Greek-American inventor, on the Caller ID invention he had patented in Greece in 1970.
There are also memes circulating that have a misattributed quote, "I delight in what I fear." This quote is not from Jackson, but from American horror and mystery writer Shirley Hardie Jackson (1916-65).