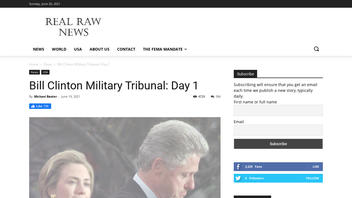 Is Bill Clinton facing a military tribunal for crimes of "murder, sex crimes against minors, treason, theft of government property"? No, that's not true: A Pentagon duty officer confirmed to Lead Stories that this claim was "Not true." The originator of the claim has a disclaimer on their website to tell readers they are not a legitimate news source.
The claim appeared in an article published by Real Raw News on June 19, 2021 titled "Bill Clinton Military Tribunal: Day 1" (archived here) which opened with this paragraph:
William Jefferson Clinton's military tribunal at Guantanamo Bay began on Friday, following a three-day delay caused by a female panelist whose amorous display of affection toward the former president shocked the Office of Military Commissions.
Users on social media only saw this title, description and thumbnail: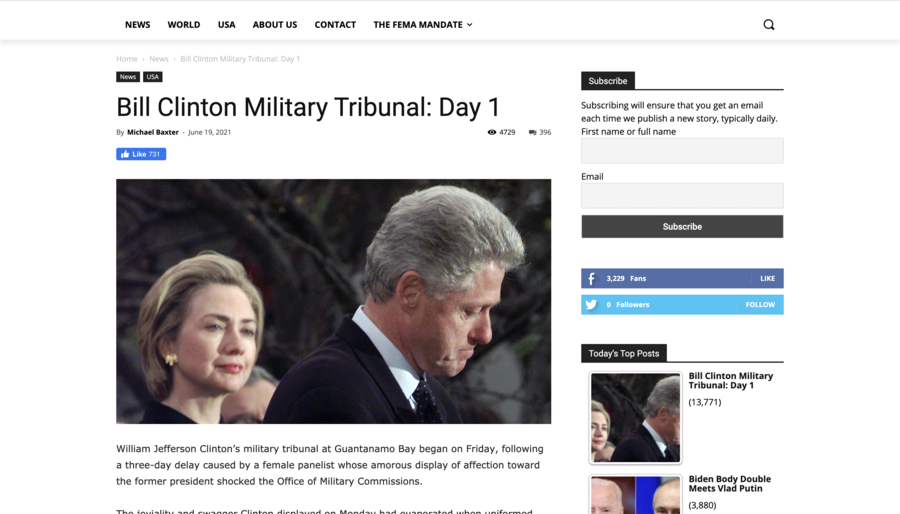 (Screenshot taken on Mon Jun 21 10:10:32 2021 UTC)
The story continues:
The joviality and swagger Clinton displayed on Monday had evaporated when uniformed MPs escorted him to GITMO's south courtroom Friday morning. A much more sullen and forlorn Bill Clinton, head hung low, was seated at the defense table beside the advocate he had chosen to represent him, the venerable David E. Kendall...At the start of Friday's proceedings, Kendall boldly asked Rear Adm. John G. Hannink to "dismiss without prejudice" all charges leveled against Bill Clinton. Those charges include murder, sex crimes against minors, treason, theft of government property,
Lead Stories reached out to The Pentagon on June 21, 2021 by email to inquire about the claim made by Real Raw News. A Duty Officer responded the same day with:
No problem, thank you for checking. Not true.
Lead Stories has debunked multiple stories written by Real Raw News; like two fictional hangings, one of John Brennan, the other of Hillary Clinton, and a fake James Comey arrest.