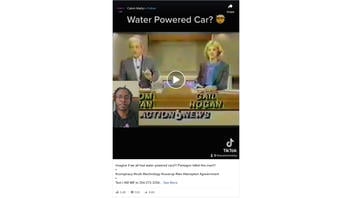 Was Stanley Meyer, an inventor and holder of several patents, including a patent to turn water into fuel, killed by the Pentagon? No, there is no evidence that Meyer was killed by the Pentagon or anyone else. The Franklin County, Ohio, coroner's report found that his immediate cause of death on March 20, 1998, was "rupture of cerebral artery aneurysm." Grove City, Ohio, police investigated and did not find any evidence of foul play.
Questions about his death circulated even before he died, hinted at by Meyer himself. The questions surface again in a Facebook post (archived here) on May 25, 2021. The post was captioned:
Imagine if we all had water powered cars!!! Pentagon killed this man!!!

•

#conspiracy #truth #technology #coverup #lies #deception #government

•

Text I AM WE to 254-272-3294

•
The undated video shows TV news anchors Tom Ryan and Gail Hogan of Action 6 News in Columbus, Ohio. They introduce a local inventor of a water-powered car, Stan Meyer, and say the Pentagon is showing lots of interest in his project. On location with Meyer and the water car, reporter Ralph Robinson says that the week prior, the Pentagon flew a lieutenant colonel in to look at Meyer's invention -- to possibly use it in the Star Wars defense program and to run Army tanks. In the lower left corner, a recently added TikTok video inset shows @thecalvinmartyr reacting to the old newscast.
This is what the post looked like on Facebook at the time of writing:
(Source: Facebook screenshot taken on Wed Jun 2 23:34:54 2021 UTC)
That newscast would have been filmed sometime between 1983 and 1987. The Strategic Defense Initiative was first announced in 1983 and anchorman Ryan left the station in 1987. Some copies of this video are titled 1986.
The story of Meyer's sudden death is dramatic and mysterious. He was known to be guarded about his invention and suspicious of people's motivations. In a 1995 documentary by Arthur C. Clarke called "It Runs on Water," Meyer said:
When new technology comes into existence there is a great resistance to it because it can affect a lot of economic factors. In this particular case in the United States, we pay out roughly about $200 billion a year for foreign oil. It's quite obvious the Arabs would pay $200 billion to try to keep this type of technology out of the economy.

Many many times over the last decade I have been offered enormous amounts of money simply to sell out or to sit on it. The Arabs offered me well over a billion dollars cold cash simply to sit on it and do nothing with it. My life has been threatened many times. Of course I happen to believe in the power of angels. And if I don't believe in the power of angels I don't believe I'll be around here for too long.
The day Meyer died he was about to have lunch with his twin brother Steven Meyer and two men from Belgium at a Cracker Barrel restaurant. In most reports of what happened that day, the Belgians are referred to as investors, but on Stanley Meyer's death certificate they are called "NATO officials" -- which they were not.
In a 2020 letter to Dutch mathematician and skeptical writer, Pepijn van Erp, one of the Belgians, Philippe Vandemoortele, explained that only he was an investor but not the other Belgian man. Vandemoortele was also a close personal friend of Meyer for several years who supported him financially and had recently purchased a piece of land in Grove City, Ohio, to build a research center. This research center was the reason the men would toast before their meal. Vandemoortele wrote:
I had bought the land in Grove City for him, he wanted to have a place to build a research centre. The intention was to officially inaugurate this on Saturday 21 March 1998. Because of this, I organised a weekend visit as often, arrival Friday 20, and departure Sunday 22. I had taken Marc Vancraeyenest with me, at Stan's request, to improve our communication via computers. Marc Vancraeyenest had nothing to do with the project.
After they made a toast with cranberry juice, Meyer ran outside, vomited and, according to Meyer's brother Steven, said he had been poisoned. Stanley Meyer may have thought he was poisoned, but the toxicology reports did not find any evidence of poisoning. A July 8, 2007, article in the Columbus Dispatch titled, "The car that ran on water" reports:
The only detectable drugs were the pain reliever lidocaine and phenytoin, which is used to treat seizures.
Below are images of the Franklin County coroner's report taken from a YouTube video. The video does not include the toxicology part of the report, but the immediate cause of death is listed as "rupture of cerebral artery aneurysm." The Mayo Clinic lists nausea and vomiting among the symptoms of a ruptured aneurysm.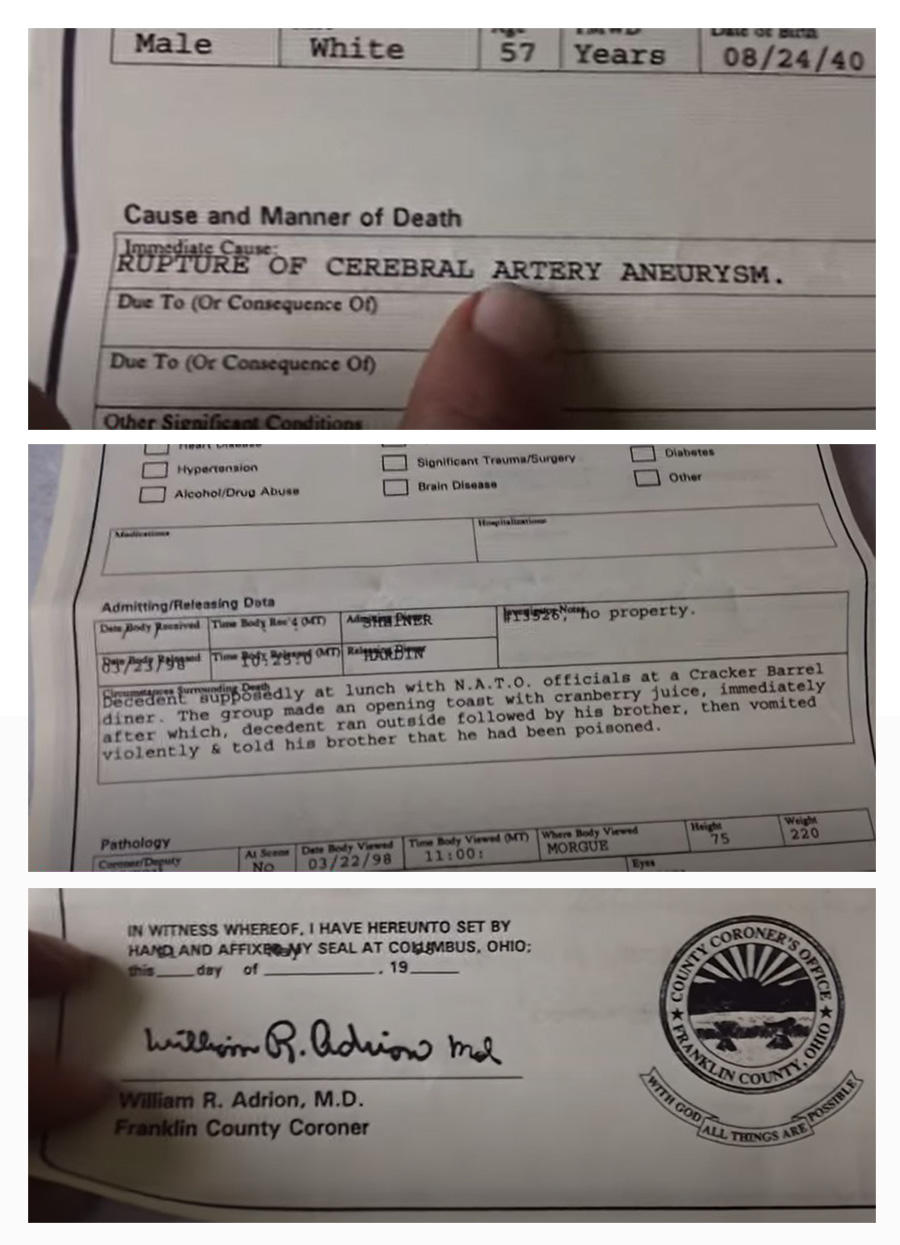 (Source: Youtube Screenshots of Official Stanley Meyer Autopsy Report taken on Thu Jun 03 15:42:26 2021 UTC)
Meyer's inventions have been the subject of much question, with some people thinking he was a genius inventor and others believing he was a con man. On September 3, 1996, Fayette County, Ohio, Common Pleas Court Judge William Corzine III found Meyer's company WFC (Water Fuel Cell) guilty of "gross and egregious fraud" for selling dealerships to investors based on technology that did not function as claimed. Meyer was ordered to pay those investors back.
Meyer intended to take his case to the Supreme Court of Ohio because he felt there had been judicial misconduct. He outlined his grievances in a "Public Notice to Inform" on December 20, 1996. He also wrote formal complaints to New Energy News and the London Sunday Times in regard to articles about the guilty verdict of the Ohio Court.
Three years after his death, many of Meyer's patents, as part of his estate, were registered in the name of his widow, Marilyn Meyer. The registrations on Meyer's patents eventually lapsed and the patents have been freely available to the public for more than a decade. Below is a partial list of Meyer's patents that are now in the public domain:
Hydrogen gas fuel and management system for an internal combustion engine utilizing hydrogen gas fuel - expired 3/15/2011
US5293857
Process and apparatus for the production of fuel gas and the enhanced release of thermal energy from such gas - expired 9/22/2009
US5149407
Method for the production of a fuel gas - expired 8/05/2007
US4936961
Controlled process for the production of thermal energy from gases and apparatus useful therefore - expired 5/02/2006
US4826581
Gas generator voltage control circuit - expired 1/17/2006
US4798661
Electrical pulse generator - expired 9/23/2003
US4613779

Gas electrical hydrogen generator - expired 9/23/2003
US4613304

Start-up/shut-down for a hydrogen gas burner - expired 9/24/2002
US4465455
Hydrogen gas burner - expired 8/25/2002
US4421474
Hydrogen gas injector system for internal combustion engine - expired 2/17/2002
US4389981