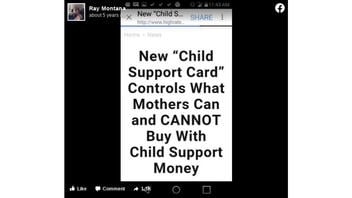 Does Delaware have a "child support card" that controls what mothers can purchase with child support payments? No, that's not true: While Delaware does give a client the option to enroll in its U.S. Bank ReliaCard program (previously the First State Family Card program) to receive child support payments, the card does not restrict choices the user can make.
The claim appeared in a Facebook post (archived here) published on June 2, 2016. The post featured three screenshots of an article that was headlined:
New 'Child Support Card' Controls What Mothers Can and CANNOT Buy With Child Support Money
Clarifying that this was supposedly enacted in Delaware, one of the screenshots read:
If the programme is successful in the states of Delaware, the government might apply it nationwide thus controlling usage.
This is what the post looked like on Facebook on July 26, 2021:
(Source: Facebook screenshot taken on Mon Jul 26 16:31:41 2021 UTC)
The Delaware Division of Child Support Services (DCSS) began processing child support payments through the ReliaCard program in 2020, replacing its previous child support debit card program, the First State Family Card. When the Facebook post making the claim was published, the First State Family Card was the active child support payment debit card program in Delaware, and that program's brochure did not mention anything about spending habits being tracked. A satirical article published in 2016 (archived here) with the same headline as the article screenshotted in the Facebook post, seemed to fuel the false notion that the First State Family Card was designed as a deterrent for spending unrelated to a child or children receiving support.
The U.S. Bank ReliaCard is a pre-paid debit card that is credited whenever a payment is posted to any/all of a client's child support case(s). In most cases, the money will be available within three (3) business days after DCSS applies the payment to the case(s).

Benefits to the debit card include:

No line of credit is associated with this card.
No bank account is required.
No need to wait for a check to arrive in the mail.
No need to make extra trips to the bank.
No need to pay check cashing fees.
Use it anywhere Debit Mastercard is accepted!
In an email to Lead Stories on July 26, 2021, Ted Mermigos, division director at DCSS, said:
I am so glad that you are fact checking this issue. DCSS nor our ReliaCard vendor controls, tracks or denies purchases with our ReliaCard. There is no validity to this claim.