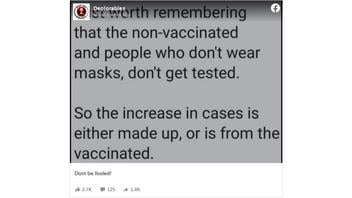 Do the non-vaccinated and people who don't wear masks not get tested for COVID-19 and therefore was the July, 2021 increase in cases faked or from the vaccinated? No, that's not true. There is no proof that unvaccinated people and people who do not wear masks are not getting tested for COVID-19. What there is proof of is that a large percentage of new COVID-19 hospitalizations and deaths are in unvaccinated people, as documented by accountable organizations such as the Centers for Disease Control and Prevention (CDC), the White House pandemic response team, and independent case-tracking organizations such as Johns Hopkins University, the New York Times and the Washington Post. No matter their diagnosis, people are tested for COVID-19 when they are admitted to hospitals across the country.
The claim appeared as a post (archived here) where it was published on Facebook on July 19, 2021. It opened:
Dont be fooled!
This is what the post looked like on Facebook at the time of writing:
(Source: Facebook screenshot taken on Mon Jul 26 17:53:12 2021 UTC)

The image read:
Just worth remembering that the non-vaccinated and people who don't wear masks, don't get tested. So the increase in cases is either made up, or is from the vaccinated."
There is no published data detailing how many people who tested positive across the United States were already vaccinated versus those who were not vaccinated. Hospitals across the country are testing all patients for COVID-19 not just those showing symptoms of the disease. A sample of hospitals that do so includes UW Medicine in Seattle, Washington, University of Michigan Health and Huntington Hospital in Pasadena, California. The highest number of people testing positive, being hospitalized and dying are in areas that have low vaccination rates.
The majority of positive COVID-19 cases in the United States are among people who are not vaccinated, according to the CDC and the White House pandemic response team.
In a White House press briefing on 22 July 2021, Rochelle Walensky, director Centers for Disease Control said:
Importantly, our data showed that infections are much less common in vaccinated people compared to unvaccinated, and most illness in vaccinated individuals is asymptomatic or mild. The most important public health step is to increase the vaccination coverage in all communities in the U.S. and globally."
At the same press conference, White House pandemic response coordinator Jeff Zients said:
In fact, unvaccinated individuals account for virtually all -- 97 percent -- of the COVID hospitalizations and deaths in the U.S."
And continued:
Second, we have fully vaccinated 162 million Americans, including 80 percent of those most vulnerable -- individuals 65 years and older. As a result, we have fundamentally changed the course of this pandemic. The threat is now predominantly only to the unvaccinated.

The data is clear: The case increases are concentrated in communities with low vaccination rates. In fact, the counties with the highest case rates have significantly lower vaccination rates than counties with lower case rates. This week, just three states -- Florida, Texas, and Missouri; three states with lower vaccination rates -- accounted for 40 percent of all cases nationwide. For the second week in a row, one in five of all cases occurring in Florida alone. And within communities, these cases are primarily among unvaccinated people."
HealthFeedBack published an article titled, "Unvaccinated individuals now account for the vast majority of COVID-19 hospitalizations and deaths in the U.S., according to available data," on July 7, 2021. The article noted:
Anthony Fauci, the director of the U.S. National Institute of Allergy and Infectious Diseases, mentioned the same 99.2% figure during a 4 July 2021 interview hosted by Chuck Todd on the NBC program "Meet the Press":

"Well, if you look at the number of deaths, about 99.2% of them are unvaccinated. About 0.8% are vaccinated. No vaccine is perfect. But when you talk about the avoidability of hospitalization and death, Chuck, it's really sad and tragic that [al]most all of these are avoidable and preventable."