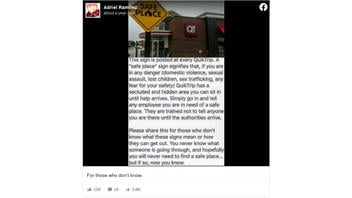 Is "Safe Place," a safety outreach for youth in crisis, provided by QuikTrip, a chain of convenience stores and gas stations that can be found in 12 states? Yes, QuikTrip is a national partner in the National Safe Place Network (NSPN), but QuikTrip locations are not the only places where youth in crisis can seek help.
Thousands of well-intentioned people have shared this meme since it began circulating on social media in 2015 and it continues to be shared in 2021, such as this Facebook post (archived here) from July 6, 2020. Lead Stories is adding additional context to ensure that as much complete information as possible is passed along to those who may need it.
Although the post encourages anyone in trouble to find a "safe place" at QuikTrip, the program that QuikTrip is part of is specifically for young people. It does not address the situations of older people in need of help, contrary to what the post implies.
There are NSPN programs in 38 states with over 22,000 locations marked with a Safe Place sign where a young person can go to ask for help. NSPN also has a free "Text 4 Help" program that youth can use if they are not near a Safe Place location. They can text the word "SAFE" and their location to 4HELP (44357) to be put in contact with services nearest to them.
The text included in the meme reads:
This sign is posted at every QuikTrip. A "safe place" sign signifies that, if you are in any danger (domestic violence, sexual assault, lost children, sex trafficking, any fear for your safety) QuikTrip has a secluded and hidden area you can sit in until help arrives. Simply go in and tell any employee you are in need of a safe place. They are trained not to tell anyone you are there until the authorities arrive.
Please share this for those who don't know what these signs mean or how they can get out. You never know what someone is going through, and hopefully you will never need to find a safe place...but if so, now you know.
This is what the post looked like on Facebook at the time of writing:
(Source: Facebook screenshot taken on Thu Jul 8 17:22:14 2021 UTC)
Lead Stories reached out by email to the National Safe Place Network and received a reply from the director of operations, Elizabeth Smith Miller. She explained:
Safe Place® is a national youth outreach and prevention program for young people under the age of 18 (up to 21 years of age in some communities) in need of immediate help and safety. As a collaborative community prevention initiative, Safe Place designates businesses and organizations as Safe Place locations, making help readily available to youth in communities across the country.

Designated Safe Place locations display the Safe Place sign, the universal symbol of youth safety.

Safe Place® absolutely signifies that if any young person is in crisis, they can enter a Safe Place® site and receive assistance such as that described in the meme. Safe Place® services are provided to youth. QuikTrip is a national partner of ours and all QuikTrip locations that are in Safe Place® communities are Safe Place® sites. There are many other Safe Place® sites as well including libraries, YMCAs, fire stations, public buses, various other businesses, social service facilities, transit companies, and first responders. We are fortunate to have more than 20,000 sites/supporters across the nation to assist with keeping youth safe.
On the nationalsafeplace.org website there is information about the "Txt 4 Help" program, a "Safe Place" locator, and the process is explained:
Here's how Safe Place works:

Step One - A young person enters a Safe Place and asks for help.

Step Two - The site employee finds a comfortable place for the youth to wait while they call the licensed Safe Place agency.

Step Three - Within 30 minutes, a qualified Safe Place volunteer or agency staff member will arrive to talk with the youth and, if necessary, provide transportation to the agency.

Step Four - Once at the agency, counselors meet with the youth and provide support. Agency staff makes sure the youth and their families receive the help and professional services they need.
QuikTrip Corporate Communications Manager Aisha Jefferson-Smith emailed Lead Stories on July 8, 2021:
Since 1991, QuikTrip has been a designated Safe Place, where runaways and at-risk youth can come in off the street, receive food and drink, and wait for a volunteer from a Safe Place agency partner to connect them with professional help or a place to stay until their situation is resolved. In addition to our stores being Safe Place sites, QuikTrip provides grants to the local Safe Place agencies. We're grateful for the valuable service Safe Place agencies and their volunteers provide.