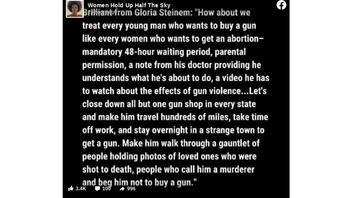 Was Gloria Steinem the author of a comparison between abortions and buying guns? No, that's not true: Although Steinem posted such a comparison on social media, she noted that she was not the author of the message.
The claim appeared in a Facebook post (archived here) published on July 26, 2021. It featured a graphic that read:
Brilliant from Gloria Steinem: "How about we treat every young man who wants to buy a gun like every women who wants to get an abortion- mandatory 48-hour waiting period, parental permission, a note from his doctor providing he understands what he's about to do, a video he has to watch about the effects of gun violence...Let's close down all but one gun shop in every state and make him travel hundreds of miles, take time off work, and stay overnight in a strange town to get a gun. Make him walk through a gauntlet of people holding photos of loved ones who were shot to death, people who call him a murderer and beg him not to buy a gun."
This is what the post looked like on Facebook on July 27, 2021:
(Source: Facebook screenshot taken on Tue Jul 27 18:04:14 2021 UTC)
The quote, versions of which have been attributed to Steinem for years (archived tweet here), was associated with her after she posted a variation of it on Facebook in 2015. However, she noted that the quote was not hers, saying "This riff is not mine, it's on the Internet - I thank whoever gave us all this present." A screenshot of the post -- a version of the quote is listed at number three -- is included below: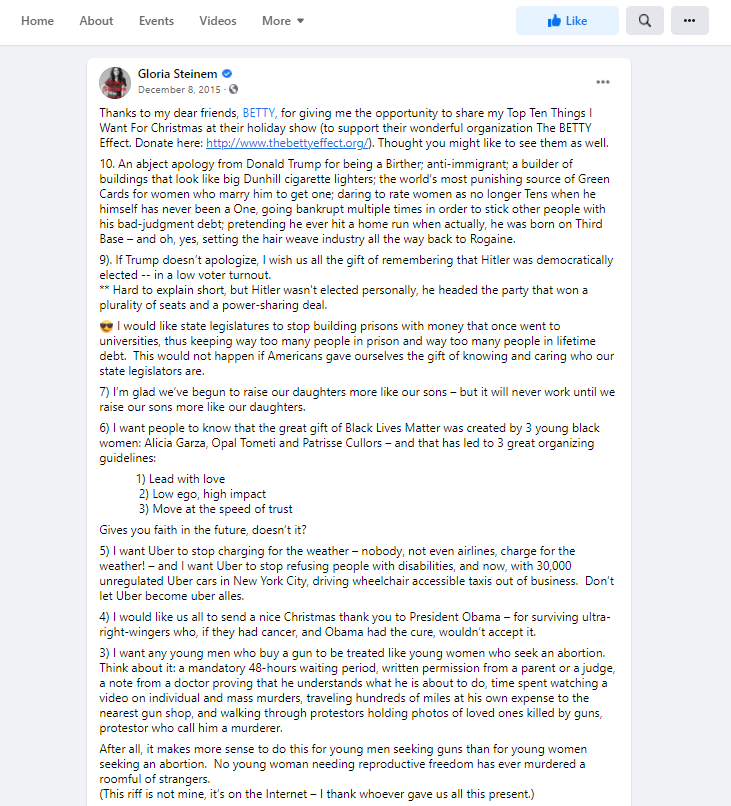 (Source: Facebook screenshot taken on Tue Jul 27 16:41:57 2021 UTC)
The original author of the post has not been identified, although a version of the message was traced to a Facebook post from 2015 that has since been removed. Lead Stories could not locate an archived version of the post.