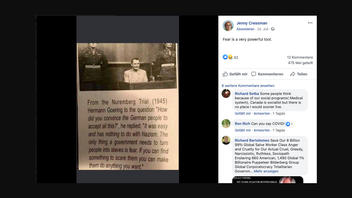 Did Hermann Goering say that the only reason Nazism worked in Germany was because the government convinced the German people to be afraid? No, that's not true: A history professor says there is no evidence of Goering, a leader in Nazi Germany who was convicted of war crimes, saying this in the official transcripts during the Nuremberg Trials that followed World War II.
The claim appeared in a Facebook post (archived here) where it was published on July 24, 2021. It read:
From the Nuremberg Trial (1945) Hermann Goering to the question "How did you convince the German people to accept all this?", he replied: "It was easy and has nothing to do with Nazism. The only thing a government needs to turn people into slaves is fear. If you can find something to scare them you can make them do anything you want."
The caption on the side read:
Fear is a powerful tool.
Here is the Facebook post at the time of writing: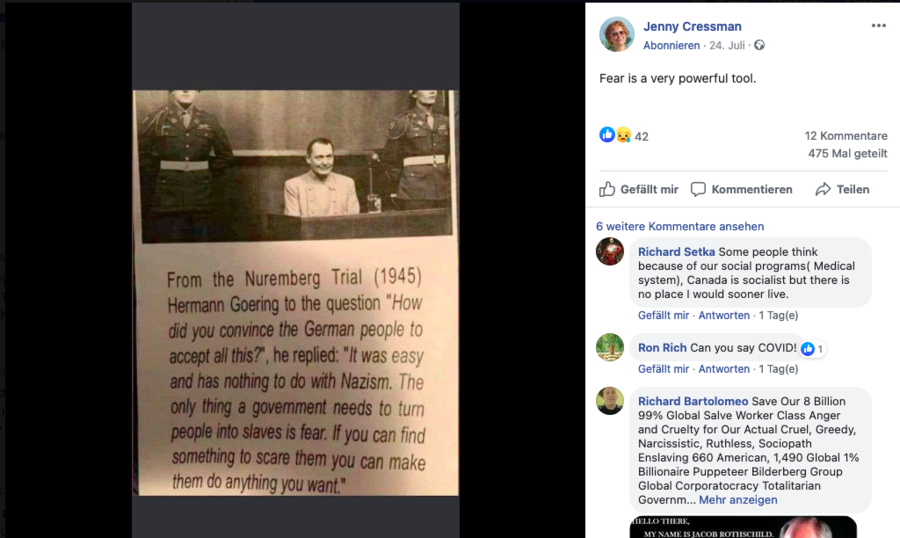 Lead Stories emailed Peter Fritzsche, a professor of history at the University of Illinois and author of several books on Germany under Hitler's Third Reich, on July 26, 2021, to inquire about the validity of this quote.
Fritzsche replied:
The quote is widely attributed to Goering at the Nuremberg trials in 1945. However, there is no evidence in the official transcript. Of course, Goering spoke off the record to various psychologists at the time. In any case, there is no factual basis for the quote.

But let us say he said it. It would have been a total miscomprehension of the Nazi movement of which he was so central a part. A large portion of the German people voted for the Nazis, were enthusiastic about the regime change in January 1933, and participated energetically in its various projects. There is little evidence at all that most Germans felt frightened; rather they felt energized and mobilized. Obviously, resolute Communists and Social Democrats felt fear if they crossed certain lines. And at the very end, I'd say the last 4 weeks of the regime, there was a kind of arbitrary lawlessness which citizens could see. But Germans were neither cowed nor frightened into submission nor slaves. Those who had reason to fear and those who were actually made into slaves were not Germans but their victims: Jews, Poles, Slavs and others in the occupied territories.

So: no factual basis, but also illogical in terms of interpretation of political movements in the 20th century.
Other fact-checking organizations have also examined the quote, finding no evidence in the transcripts of the Nuremberg Trial that Goering said it there.