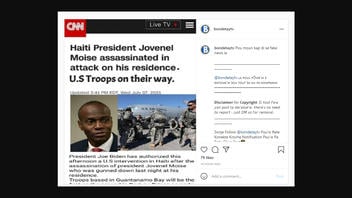 Did President Biden order U.S. troops to move into Haiti after the assassination of Haitian President Jovenel Moise? No, that's not true: A screenshot of a purported July 7, 2021 CNN article reporting that Biden ordered an American intervention into Haiti is a poorly-produced fake. The White House had not -- as of the evening of July 8, 2021 -- announced any orders sending troops into Haiti.
The claim appeared in a post (archived here) in Instagram posted on July 7, 2021 under the title "ʟᴀ ᴘᴏᴜʟ ꜰÒᴍᴇ'ᴡ ᴇ ᴇɴꜰᴏᴍᴇ'ᴡ ꜱᴏᴜ ᴛᴏᴜᴛ ꜱᴀ ᴏᴜ ᴘᴀ ᴋᴏɴᴘʀᴀɴɴ", which translated from Haitian Creole to English says "For those who say it is the fake news." The fake article's headline read:
Haiti President Jovenel Moise assassination in attack on his residence. U.S Troops on their way.
This is the post at the time of writing:
This is a screenshot of the post: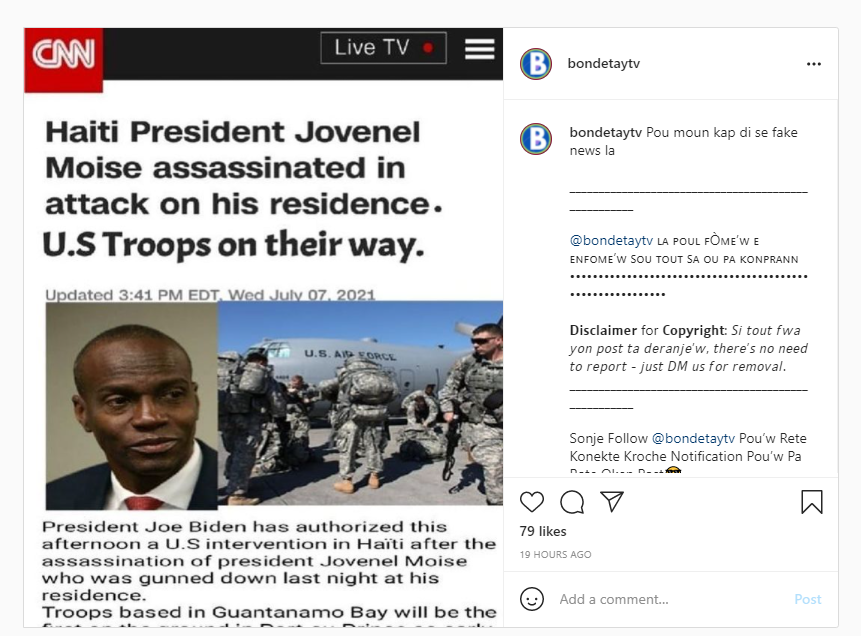 The first paragraph of the fake story read:
President Joe Biden has authorized this afternoon a U.S intervention of Haiti after the assassination of president Jovene Moise who was gunned down last night at his residence.

Troops based in Guantanamo Bay will be the...
Besides the absence of any announcement from the White House that a military intervention was underway, there are several other basic reasons to conclude the post is fake. The words added to the headline: "U.S Troops are on their way" is in a different font than what was used in the rest of the CNN headline. There are also style mistakes, such as the lack of a period after the "S" in "U.S." The text does not capitalize "president", something a CNN copy editor would likely not allow.
This is the real CNN story on the assassination. There is NO mention of a U.S. troop intervention.