Did Shelby Houlihan, an American runner poised to run in the Tokyo Olympics, receive a less harsh punishment than Sha'Carri Richardson, another potential American Olympic runner, when Olympic officials found out they both had banned substances in their bodies? No, that's not true: Houlihan got suspended for four years, while Richardson's suspension is for a month.
The claim appeared in an Instagram post from blacklivesmatter_awareness on July 3, 2021, with the text "Tested positive for steroids 2 weeks ago: BLAMED A BURRITO (No Media Coverage), Tested positive for marijuana 1 week ago: Took responsibility (Bashed by the world)" Text on the righthand side reads:
Shelby Houlihan was poised to compete for a spot at the Games despite a doping ban that she blamed on burrito meat. Athletes complained, and a reversal to keep her sidelined eventually came from the highest levels of American Olympic governance. BUT IM TRIPPIN CUZ THEY WAS STILL GOING TO LET HER RACE #blacklivesmatter ✊🏿✊🏾✊🏽✊🏼
This is how the post looked at the time of writing: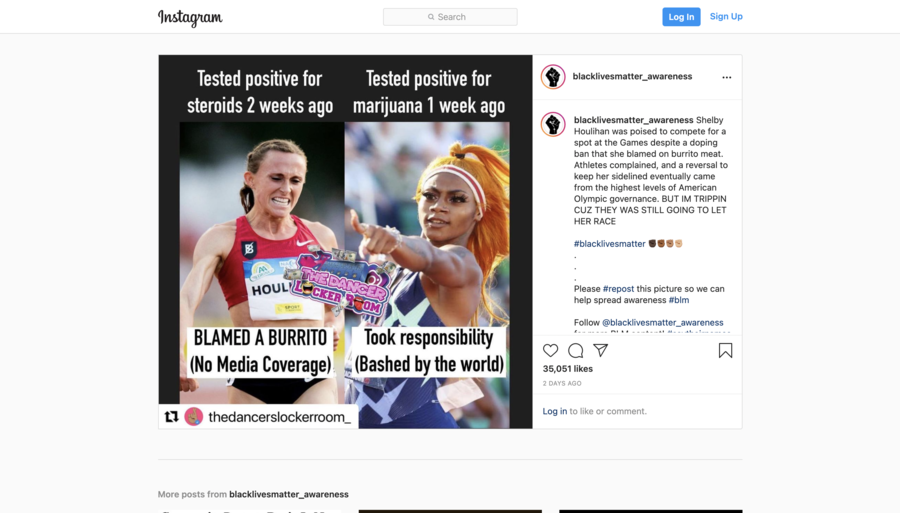 After news came out that Houlihan tested positive for a steroid -- she blamed a pork burrito -- Olympic officials placed her on a four-year suspension from competing.
The claim that there was "no media coverage" about Houlihan is false. The New York Times, Washington Post and many others covered this in mid-June 2021.
Richardson did take responsibility for her actions and received backlash for them as well, but U.S.A. Track and Field released words of support for her:
Sha'Carri Richardson's situation is incredibly unfortunate and devastating for everyone involved. Athlete health and well-being continue to be one of the USATF's most critical priorities and we will work with Sha'Carri to ensure she has ample resources to overcome any mental health challenges now and in the future.
Richardson claimed she smoked marijuana after finding out from a reporter that her mother had passed away.
Earlier, Lead Stories wrote a similar story about Michael Phelps' suspension compared to Richardson's and how Phelps did not receive a lighter penalty than her.