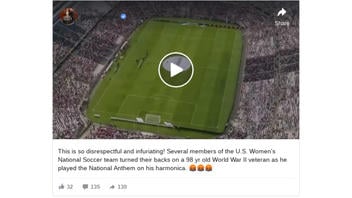 Did the U.S. Women's National Soccer team turn their back on a WWII vet playing the national anthem on his harmonica? No, that's not true: Most of the players on the team had turned to face the American flag, a tradition during the national anthem, while a few faced forward as the song was played. None of them turned their back on Pete DuPré, 98, while he played "The Star Spangled Banner."
The claim appeared as a Facebook post (archived here) on July 5, 2021. It opens:
This is so disrespectful and infuriating!
This is what the post looked like on Facebook at the time of writing:
(Source: Facebook screenshot taken on Tue Jul 6 18:38:05 2021 UTC)
The U.S. Women's National Soccer Team played against Mexico on July 5, 2021, at the Pratt & Rentschler Field in Connecticut, according to USSoccer.com.
Neil Buethe, the chief communications officer for U.S. Soccer, disputed the claim that the women turned their backs on DuPré, in a July 6, 2021, email to Lead Stories:
Any claim that our U.S. Women's National Team players turned their back on WWII Veteran Pete DuPré during the anthem is 100 percent false. Some players were simply looking at the flag on a pole in one end of the stadium. The players have known Pete since 2019, have a deep respect for him, his military service and have truly embraced him as almost another member of the team. In Hartford specifically, they invited him out to training the day before, greeted him upon arrival to the stadium and then thanked him one-by-one after the game and even signed a ball for him.
Player Carli Lloyd also denied they turned their backs on the WWII vet.
We turned because we faced the flag 🇺🇸 https://t.co/1JJHUWGCLv

-- Carli Lloyd (@CarliLloyd) July 6, 2021
Another player, Crystal Dunn, tweeted, "So proud," with a video of the team during the national anthem.
So proud. pic.twitter.com/JNPyfgcYVN

-- Crystal Dunn | Soubrier | (@Cdunn19) July 6, 2021
The team's official Twitter account posted a video of the team during the National Anthem, thanking DuPré, a longtime friend of the team, for his performance:
Thank you, Pete! 🇺🇸❤️ pic.twitter.com/BL7kgHbLfg

-- U.S. Soccer WNT (@USWNT) July 5, 2021
According to Military.com, it is protocol for nonmilitary members to face the flag while the national anthem is played:
(C) all other persons present should face the flag and stand at attention with their right hand over the heart, and men not in uniform, if applicable, should remove their headdress with their right hand and hold it at the left shoulder, the hand being over the heart; and
(2) when the flag is not displayed, all present should face toward the music and act in the same manner they would if the flag were displayed.