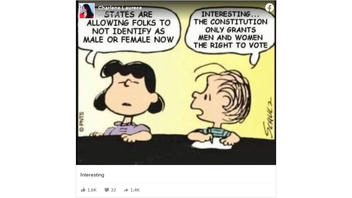 Does the U.S. Constitution only grant men and women the right to vote? No, that's not true: The 19th Amendment to the Constitution says, "The right of citizens of the United States to vote shall not be denied or abridged by the United States or by any State on account of sex." That protects the voting rights of citizens of all gender identifications, according to an election law expert.
The claim appeared in a Facebook post (archived here) published on July 5, 2021. The post features a meme of Lucy and Linus van Pelt from the Peanuts franchise talking. It reads:
(Lucy): States are allowing folks to not identify as male or female now
(Linus): Interesting...The Constitution only grants men and women the right to vote
This is what the post looked like on Facebook on July 6, 2021:
(Source: Facebook screenshot taken on Tue Jul 6 16:06:09 2021 UTC)
However, the Constitution does not explicitly say that only men and women can vote. The 19th Amendment, which was ratified in 1920 after women protested for decades for the right to vote, takes a broad approach by stipulating that no person of any sex should be discriminated against in voting.
In an email to Lead Stories on July 6, 2021, Richard L. Hasen, Chancellor's Professor of Law and Political Science at the University of California, Irvine, who specializes in election law, said:
I believe any law that would bar nonbinary individuals or transgender individuals from voting would violate the 19th amendment and the 14th Amendment's equal protection clause. The 19th specifically says no discrimination in voting on the basis of sex, which would include all forms of discrimination in voting on the basis of gender identity.
The first section of the 14th Amendment, which contains the equal protection clause, states:
All persons born or naturalized in the United States, and subject to the jurisdiction thereof, are citizens of the United States and of the State wherein they reside. No State shall make or enforce any law which shall abridge the privileges or immunities of citizens of the United States; nor shall any State deprive any person of life, liberty, or property, without due process of law; nor deny to any person within its jurisdiction the equal protection of the laws.