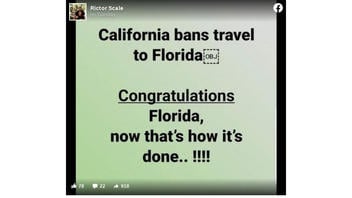 Did California ban travel to Florida? No, that's not entirely true: While California did ban state-sponsored travel to Florida due to the latter state's policies against LGBTQ individuals, that ban does not extend to private travel.
The claim appeared in a Facebook post (archived here) published on August 3, 2021. It featured a graphic that read:
California bans travel to Florida
Congratulations, Florida, now that's how its done.. !!!!
This is what the post looked like on Facebook on August 6, 2021:
(Source: Facebook screenshot taken on Fri Aug 6 16:16:37 2021 UTC)
The post provides incomplete information about the travel ban. The ban is due to enforcement of California's Assembly Bill 1887 (abbreviated AB 1887, archived here). It states:
This bill would prohibit a state agency and the Legislature from requiring any of its employees, officers, or members to travel to, or approving a request for state-funded or state-sponsored travel to, any state that, after June 26, 2015, has enacted a law that voids or repeals, or has the effect of voiding or repealing, existing state or local protections against discrimination on the basis of sexual orientation, gender identity, or gender expression or has enacted a law that authorizes or requires discrimination against same-sex couples or their families or on the basis of sexual orientation, gender identity, or gender expression, as specified, subject to certain exceptions. The bill would require the Attorney General to develop, maintain, and post on his or her Internet Web site a current list of states that, after June 26, 2015, have enacted such a law. The bill would make it the responsibility of specified state entities to consult the list in order to comply with the travel and funding restrictions imposed by the bill.
Lead Stories reached out to the California Office of the Attorney General (OAG) to confirm that the AB 1887 ban is California's only travel ban against Florida and that all the 17 states on the list (archived here) are still subject to the ban. A spokesperson assured us via email on August 6, 2021, that the AB 1887 ban is not a private travel ban against Florida and that the list of other banned states was up to date at the time of writing. A screenshot of the ban list is below: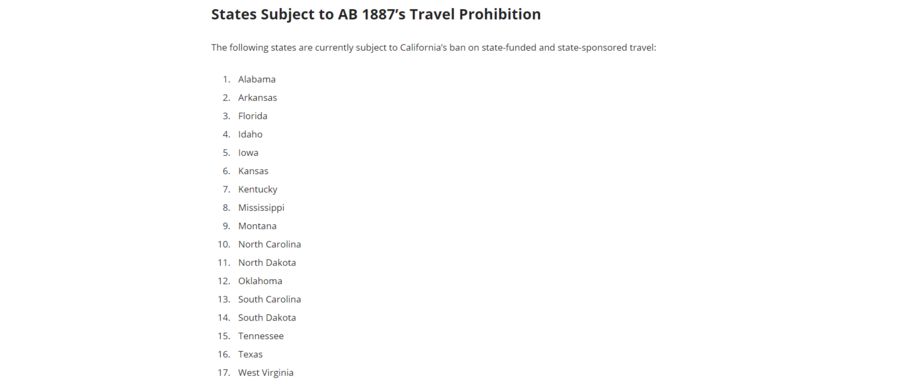 (Source: Screenshot taken on Fri Aug 6 15:40:54 2021 UTC)
The California OAG published a press release (archived here) on June 28, 2021, explaining the AB 1887 ban against Florida and four other states:
California Attorney General Rob Bonta today announced that California will restrict state-funded travel to Arkansas, Florida, Montana, North Dakota, and West Virginia as a result of new anti-LGBTQ+ legislation recently enacted in each state. The states are a part of a recent, dangerous wave of discriminatory new bills signed into law in states across the country that directly work to ban transgender youth from playing sports, block access to life-saving care, or otherwise limit the rights of members of the LGBTQ+ community. Many states pushing these new discriminatory laws are already on California's travel restrictions list. The new restrictions on state-funded travel to the states announced today are prescribed by law in California pursuant to Assembly Bill 1887 (AB 1887), which was enacted in 2016.
It then explained why Florida was banned:
Florida is being added to California's state-funded travel restrictions list as a result of Senate Bill 1028. Signed into law on the first day of Pride Month, Senate Bill 1028 prevents transgender women and girls from participating in school sports consistent with their gender identity. Given the effective date for the new law, Florida, pursuant to AB 1887, will be added to California's travel restrictions list on July 1, 2021.
Florida Senate Bill 1028's full text can be found here, although the portion of the bill relevant to the travel ban is called the "Fairness In Women's Sports Act." The legislative intent and findings of the act in the version posted on May 2, 2021 (archived here) reads:
(a) It is the intent of the Legislature to maintain opportunities for female athletes to demonstrate their strength, skills, and athletic abilities and to provide them with opportunities to obtain recognition and accolades, college scholarships, and the numerous other long-term benefits that result from participating and competing in athletic endeavors.
(b) The Legislature finds that maintaining the fairness for women athletic opportunities is an important state interest. The Legislature finds that requiring the designation of separate sex-specific athletic teams or sports is necessary to maintain fairness for women's athletic opportunities.
However, there are exceptions to the ban. The OAG AB 1887 resource states:
Specifically, AB 1887 does not apply to state travel that is required for any of the following purposes:

Enforcement of California law, including auditing and revenue collection.
Litigation.
To meet contractual obligations incurred before January 1, 2017.
To comply with requests by the federal government to appear before committees.
To participate in meetings or training required by a grant or required to maintain grant funding.
To complete job-required training necessary to maintain licensure or similar standards required for holding a position, in the event that comparable training cannot be obtained in California or a different state not subject to the travel prohibition.
For the protection of public health, welfare, or safety, as determined by the affected agency, department, board, authority, or commission, or by the affected legislative office.