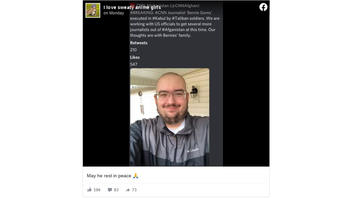 Was a CNN reporter from the U.S. named Bernie Gores executed by the Taliban in Kabul, Afghanistan? No, that's not true: "Bernie Gores" is not a real CNN reporter, and the Twitter accounts that propagated the claim are all fake news accounts.
The claim originally appeared in tweets published on August 16, 2021, from the now-suspended fake news accounts @CNNAfghan, @BBCAfghanNews and @MSNBCAfghan. The archived tweets about "Bernie Gores" can be found here, here and here.
However, the information soon landed on Facebook, and was featured in Facebook posts such as this one (archived here). The post included a graphic with a picture of a smiling man and information from the @CNNAfghan tweet that read:
CNN Afghanistan (@CNNAfghan)
#BREAKING: #CNN Journalist 'Bernie Gores' executed in #Kabul by #Taliban soldiers. We are working with US officials to get several more journalists out of #Afganistan at this time. Our thoughts are with Bernies' family.
Retweets 210
Likes
547
The caption of the post read:
May he rest in peace 🙏
This is what the post looked like on Facebook on August 19, 2021:
(Source: Facebook screenshot taken on Thu Aug 19 15:32:52 2021 UTC)
According to CNN's list of anchors, reporters and staff, there was no journalist at CNN named "Bernie Gores" on August 16, 2021, the day the Twitter accounts reported that he was killed.
The picture of the smiling man used in the fake tweets and the Facebook post is of video game streamer Jordie Jordan, also known as WingsOfRedemption on Twitch. Jordan's image was used in another false claim in August 2020 that stated that he was a missing person, again named Bernie Gores, who was possibly killed in a fuel explosion in Beirut, Lebanon. A tweet about the Beirut claim can be found here (archived here) and is embedded below:
I can't stop laughing. Someone sent a photo of WingsOfRedemption to an Instagram page with 60k followers dedicated to posting photos of missing Beirut explosion victims... and they said his name was BERNIE GORES 😭😭😭 #wingsofredemption #Beirut #trolls pic.twitter.com/8QPVRuB7YF

-- sam l (@sponsormeplz) August 5, 2020
(Source: Twitter screenshot taken on Thu Aug 19 15:35:23 2021 UTC)
There are also fake accounts on TikTok using the "Bernie Gores" moniker that use images and footage of Jordan. Examples are found here (archived here), here (archived here) and here (archived here).