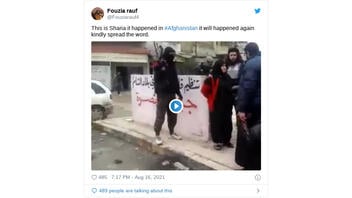 Does this video show a Taliban killing in Afghanistan in the summer of 2021? No, that's not true: This footage of the public execution of a woman accused of adultery was identified in 2015 as having been carried out by Nusra Front jihadists outside Idlib, a city in Syria. Nusra Front is the Syrian branch of al-Qaeda.
Reuters reported on the videotaped public killing of this woman in Syria on January 14, 2015. A tweet of the video (archived here) was published by Fouzia rauf on August 16, 2021. It was captioned:
This is Sharia it happened in #Afghanistan it will happened again kindly spread the word.
This is what the post looked like on Twitter at the time of writing:
(Source: Twitter screenshot taken on Wed Aug 18 19:20:07 2021 UTC)
The reuters.com 2015 article was based on observations from the director of the Britain-based Syrian Observatory for Human Rights, Rami Abdulrahman, who had received a copy of the video. The article explained:
Al Qaeda's Syria wing, Nusra Front, shot dead a woman in the northwest of the country after accusing her of adultery, a monitoring group said on Wednesday, saying it showed such execution-style killings were not confined to the militant Islamic State group. ...

Nusra Front, which sometimes fights alongside Western-backed insurgents in Syria as well as against them, has also carried out such killings or physical punishments after accusing people of violations such as insulting God or thievery.
Copies of this video are being recirculated and misrepresented as video of the Taliban in Afghanistan since they took over in the summer of 2021. On August 17, 2021, fact checker boomlive.in reported that this 2015 video had been posted again and captioned in Hindi. The caption translates to:
Will an intellectual tell us if this the real form of Islam? That if a woman is not dressed according to you, then you kill her, the terror of the Taliban regime started, killing the woman just because she came out of the house. Women and children are never safe in Taliban thinking. There are many people of Talibani thinking in India too, we demand from the government that they should be thrown out of the country immediately.
An August 17, 2021, Facebook post from Tv9Kannada from Bangalore, India shared a post in the Kannada language, with a link to the 2015 video posted on YouTube. The post included the hashtags, "#Afghanistan #Taliban."