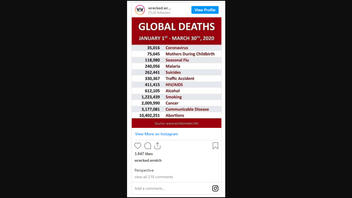 Does a global deaths meme accurately reflect the severity and scope of COVID-19? No, that's not true: It considers a three-month period at the very start of the pandemic, before deaths from COVID-19 started to skyrocket. By cherry-picking the time period, the meme misleads as it understates the pandemic's true extent.
The meme appeared in an Instagram post (archived here) published on August 6, 2021. The post, captioned "Perspective," lists global deaths between January 1 and March 30, 2020. It opens:
35,016 Coronavirus
75,645 Mothers During Childbirth
118,980 Seasonal Flu
240,056 Malaria
262,441 Suicides
This is what users saw on social media at the time of writing:
As its source, the meme cites the Worldometer statistics website. This fact check does not include an examination of all the numbers. Instead, we are making the point that the period in the meme is not an apt time period for considering COVID-19 deaths.
As can clearly be seen on the Worldometer COVID-19 page, deaths from the disease started to skyrocket around April 2020 and have been climbing consistently ever since. To date, more than 4.3 million people have died from COVID-19, a far cry more than the 35,016 included in the meme.
By cherry-picking old data, the meme locates COVID-19 deaths at the very low end of its global deaths list. At the top, it places abortions, which suggests that the meme may be trying to make an argument rather than present unbiased facts.