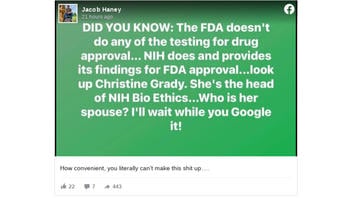 Does the Food & Drug Administration (FDA) hand over all its testing of new drugs to the National Institutes of Health (NIH), and does that put Dr. Anthony Fauci's wife, NIH chief of bioethics Christine Grady, in a position to somehow benefit her husband by determining which drugs and vaccines are approved for use? No, that's not always true: Pharmaceutical companies usually sponsor testing of new drugs before seeking FDA approval. University and hospital experts collect much of the data submitted to the FDA with companies' requests for approval. Data from testing of new drugs are also submitted to science journals for review by independent academic medical experts.
In the case of COVID vaccines, Operation Warp Speed funded clinical studies, with funds distributed by the National Institute of Allergies and Infectious Diseases, where Fauci is the director. Grady, a registered nurse who specializes in human research ethics, is not a pharmaceutical or infectious disease expert and not part of the FDA, which decides which new drug applications are approved.
The meme suggesting an impropriety appeared in an August 25, 2021, Facebook post (archived here) under the title "Did You Know." It continues:
The FDA does not do any of the testing for drug approval... NIH does and provides its findings for FDA approval...look up Christine Grady. She's the head of NIH Bio Ethics...Who is her spouse? I'll wait while you Google it!
This is what the post looked like on Facebook at the time of writing:
(Source: Facebook screenshot taken on Thu Aug 26 21:18:27 2021 UTC)
Under the post, the account owner wrote "How convenient, you literally can't make this shit up...."
Lead Stories contacted the NIH, FDA, Centers for Disease Control and Prevention (CDC) and vaccine makers Pfizer and Moderna. We will add their replies, when received, into this fact check, although much of the information is available on the agencies' websites.
The implication, that Grady helps Fauci profit from drug approvals, has been disproved with patent records and FDA documents
A cluster of persistent, and fully debunked, conspiracy theories holds that Fauci, Microsoft founder Bill Gates and a revolving cast of other unpopular leaders own the DNA of the virus that causes COVID, own the patents to the vaccines against COVID or somehow positioned themselves to profit by creating the pandemic. There is no publicly available evidence to support the claims and FDA and U.S. Patent Office documents show no proof Fauci, his agency nor Bill Gates can earn royalties from vaccine patents, nor from sales of vaccines.
Pre-approval, drugs are tested at multiple locations in lab and clinical trials sponsored by drugmakers, but not by the FDA
Drug companies work with hospitals in a variety of locations to enroll volunteers who are vaccinated and then monitored for the vaccine's safety and effectiveness. For example:
In this report about a participating researcher from New Orleans' Ochsner Health, the local researcher leading the study in Louisiana describes being one of 120 worldwide sites where studies of the vaccines' effectiveness were conducted.
In another report, Duke University's news service describes the work of two doctors at the North Carolina medical school who conducted clinical testing of the vaccine.
The online announcement of a COVID vaccine clinical study in Seattle lists NAIAD as the sponsor/funder.
If lab and clinical testing is satisfactory, the drug company makes a biologics license application in seeking approval to manufacture and market its new vaccine. At that point, FDA scientists begin review of the research findings, the FDA says in a fact sheet on vaccine development:
A typical FDA team is comprised of: physicians, chemists, statisticians, pharmacologists/toxicologists, microbiologists, experts in postmarketing safety, clinical study site inspectors, manufacturing and facility inspectors, and labeling and communications experts.
Medical journals also review vaccine developers' data. In the case of the COVID-19 vaccines, science journals published a variety of studies of the vaccines' effectiveness, including this New England Journal of Medicine paper and this safety study authored by dozens of researchers from different facilities and also published in the New England Journal of Medicine. Those studies are reviewed by non-involved experts, who suggest revisions and test methods and analysis, often requiring new work before the paper is published.
Once approved, drugs and their components are sometimes tested in FDA labs, as outlined in this FDA information sheet, which says, in part:
Prior to FDA approval, the manufacturer must prove the product is safe, effective, and high quality.

To help assure safe and effective drugs are sold in the United States, we test selected drugs in FDA laboratories. This includes active pharmaceutical ingredients (API) used to make the product and the finished drug product sold to consumers. We test using the same standards that are part of the drug approval process for identity, strength, purity, and bioavailability, which is also used to establish bioequivalence.
Grady is one of dozens of section heads, but not a lab chief and not in control of drug approval
An NIH spokesperson said in an August 27, 2021, email to Lead Stories that the NIH Clinical Center, where Grady works, is separate from the National Institute of Allergy and Infectious Diseases (NIAID), directed by her husband, Fauci.
Headquartered in Bethesda, Maryland, NIH has 20,000-plus employees, many of them working in the 75-plus buildings on its 300-acre campus. Most NIH research is conducted there, but about 20% is carried out in laboratories around the world. Grady is part of one of the 27 distinct organizations within NIH, which are sorted out in this 19-page organization chart.
The bioethics program that she is chief of runs training programs and produces academic papers on research design, treatment of test subjects and other questions of right and wrong that confront scientists. It does not run labs nor oversee drug testing.