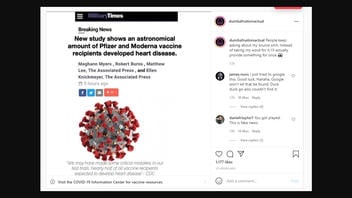 Did Military Times publish an article that revealed a new study saying people who have gotten the Pfizer and Moderna COVID-19 vaccination were susceptible to heart disease? No, that's not true: The article does not exist, the claim is posted with a screenshot of a faked Military Times headline. Searches of militarytimes.com and other resources online show no results of this article ever being written. The listed authors are actual journalists but none of them have this article in the search results under their names.
The claim appeared in an Instagram post where it was published by Dumbafnationactual on August 12, 2021. The screenshot fake headline read:
Breaking News: New study shows an astronomical amount of Pfizer and Moderna vaccine recipients developed heart disease.
A fake quote underneath the headline, purported authors and a picture of the COVID-19 virus underneath a microscope says:
"We may have made some critical mistakes in our test trials. Nearly half of all vaccine recipients expected to develop heart disease."-CDC
This is what the post looked like on Instagram at the time of writing:
(Source: Instagram screenshot taken on Mon Aug 16 14:19:12 2021 UTC)
The Centers for Disease Control and Prevention (CDC) has never said the quote attributed to it, as this search shows.
What the CDC has said, in an article concerning myocarditis and pericarditis after receiving the COVID-19 vaccine, is that reports of this happening are rare, and have been reported in adolescents and young adults. Myocarditis is the inflammation of the middle layer of the heart wall, while pericarditis is the inflammation of the membrane surrounding the heart, or the pericardium.
The CDC also says that most patients who received care for the inflammation responded well to the treatment and felt better soon afterwards.
Military Times is a real news organization and website that says on its "About Us" page: "Service members and their families rely on MilitaryTimes.com as a trusted, independent source for news and information on the most important issues affecting their careers and personal lives."
Lead Stories typed in the entire purported headline in Military Times' search bar and could not find such at article on the site.
There are also no results for this specific Military Times article on Twitter or Google.
The authors listed on the Instagram screenshot -- Meghann Myers, Robert Burns, Matthew Lee and Ellen Knickmeyer -- are actual journalists whose names were used to appear on a fake headline about a purported article that does not exist.
Myers, Burns, Lee and Knickmeyer are all national security/foreign policy reporters, not health or medical reporters who would be writing about COVID-19.
Their names appeared together on a real Military Times article about U.S. troops deploying to Afghanistan.