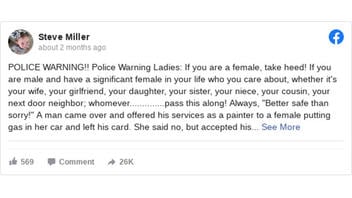 Are criminals using business cards laced with the drug "burundanga" to incapacitate women? No, that's not true: The claim about a business card having a substance on it "that could have seriously injured" a woman, making her ill and possibly unconscious, is an urban legend that has been recycled since at least 2008 and has been debunked before.
The claim appeared as a Facebook post (archived here) on July 8, 2021. It opens:
POLICE WARNING!! Police Warning Ladies: If you are a female, take heed!
This is what the post looked like on Facebook at the time of writing:
(Source: Facebook screenshot taken on Mon Aug 30 23:27:44 2021 UTC)
The entire post reads:
POLICE WARNING!! Police Warning Ladies: If you are a female, take heed! If you are male and have a significant female in your life who you care about, whether it's your wife, your girlfriend, your daughter, your sister, your niece, your cousin, your next door neighbor; whomever..............pass this along! Always, "Better safe than sorry!" A man came over and offered his services as a painter to a female putting gas in her car and left his card. She said no, but accepted his card out of courtesy and got in her car. The man then got into a car driven by another gentleman. As the lady left the service station, she saw the men following her out of the station at the same time. Almost immediately, she started to feel dizzy and could not catch her breath. She tried to open the window and realized that the odor was on her hand; the same hand which accepted the card from the gentleman at the gas station. She then noticed the men were immediately behind her and she felt she needed to do something at that moment. She drove into the first driveway and began to honk her horn repeatedly to ask for help. The men drove away but the lady still felt pretty bad for several minutes after she could finally catch her breath. Apparently, there was a substance on the card that could have seriously injured her.
This drug is called 'BURUNDANGA' and it is used by people who wish to incapacitate a victim in order to steal from or take advantage of them. This drug is four times more dangerous than the date rape drug and is transferable on simple cards. So take heed and make sure you don't accept cards at any given time you are alone or from someone on the streets. This applies to those making house calls and slipping you a card when they offer their services. PLEASE SEND THIS ALERT TO EVERY FEMALE/MALE YOU KNOW!!!!THIS HAPPENED NO JOKES.
Snopes.com debunked this exact claim over a decade ago in 2008 in a post titled, "Burundanga/Scopolamine Warning," noting that the allegations that someone was drugged with a substance on a piece of paper were unfounded. Burundanga is a popular name for the drug scopolamine, which is used to treat motion sickness. The article identified various emails that claimed the drugging happened in 2008, with a few variations. One identified a woman as "Jaime Rodriguez's neighbor," and said she was approached in a town called "Katy," but without a state. The claim was similar: A man in a gas station gave her a business card:
Almost immediately, she started to feel dizzy and could not catch her breath. She tried to open the windows and in that moment she realized that there was a strong odor from the card. She also realized that the men were following her.
Often the claim is made about an anonymous incident with no identifying factors like a city or a person's name for verification purposes. The details vary slightly but all say a woman was given a piece of paper/business card with burundanga or a substance that rendered her ill/incapacitated and put her in danger of being kidnapped and further harmed. There is no real evidence that a woman was drugged by a piece of paper laced with burundanga and there are no reports in the U.S. media with the claim.
A real incident was reported in Kansas City, Missouri, in 2010 where a woman claimed that a man in a gas station gave her a piece of paper, she felt ill shortly after and he then tried to attack her. The chief of police verified there was an incident involving a man who gave a woman a piece of paper in a gas station, but that it was not laced with drugs:
The e-mails going around say there was some kind of drug on the paper Blakley gave the victim. He denied it. The video of him at Quik Trip showed him touching the paper with no gloves on, and he had no ill effects. Police were unable to locate the discarded paper, and because the victim did not submit to medical tests, there is no way to determine if anything was on the paper that would have gotten into her bloodstream and made her sick. However, it is highly unlikely that such brief skin contact with any type of toxin could produce such a fast response. It's more likely the victim suffered anxiety-related symptoms like a panic attack from the stress of the event, but there is no way to prove that.

I wanted to get all the facts of this incident out to the public to quell the fears that often accompany scary, mass-circulating e-mails. It is highly, highly unlikely that there is a man out there handing pieces of paper to women that drug them and render them ill. As always, if you ever feel unsafe, however, please call 911.
A teenager in the U.K. claimed in early August 2021 that she was unknowingly slipped a drug in her drink and suffered severe reactions. A news article claimed that burundanga was in her beverage. Her mother shared a video of her daughter after she ingested the drink, but did not identify the drug as burundanga in an interview with The Mirror newspaper.
A mum is warning parents and nightclub goers after her daughter was allegedly 'spiked' in a Southend venue, causing her to be rushed to hospital in this shocking state.

18-year-old Millie Taplin was enjoying her first night out in Southend since turning

Cc @YourSouthend pic.twitter.com/xnaCaz3jey

-- London & UK Crime (@CrimeLdn) August 2, 2021
Lead Stories reached out to the following organizations to ask for comment on whether burundanga or scopolamine being put on a business card was a credible threat to the safety of people and all declined to comment:
DEA - Drug Enforcement Agency
HHS - Health and Human Service Agency
RAINN - Rape Abuse And Incest National Network