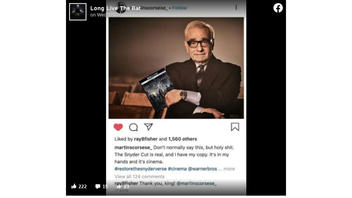 Did American film director Martin Scorsese endorse the Zack Snyder version of the movie "Justice League"? No, that's not true: The photo of Scorsese holding "Zack Snyder's Justice League" is nowhere to be found on Scorsese's verified Instagram account. The photo matches one from a Rolex promotional shoot, found in a SwissWatchExpo.com article titled, "Martin Scorsese Rolex Watch Collection." The "Justice League" case appears crudely added with photo manipulation software and dropped onto a fake Instagram post.
The claim appeared in a Facebook post (archived here) on September 8, 2021. The post reads:
Don't normally say this, but holy shit. The Snyder Cut is real, and I have my copy. It's in my hands and it's cinema. #restorethesnyderverse #cinema @warnerbros...
This is what the post looked like on Facebook at the time of writing:
(Source: Facebook screenshot taken on Fri Sep 10 14:38:37 2021 UTC)
One of the first signs that this was not a real Martin Scorcese photo was the lack of a blue checkmark. The checkmark is used by social media sites like Twitter and Instagram to tell users that the account has been verified as belonging to the real public figure whose name is on it. When users click on an Instagram photo, at the very top, the username, the blue checkmark, a black dot and blue text that says "Follow" is visible. In the Facebook post, the username, black dot and "Follow" are present, but not the blue checkmark. Seen below is a photo from the actual Martin Scorsese Instagram account, showing the blue verification checkmark.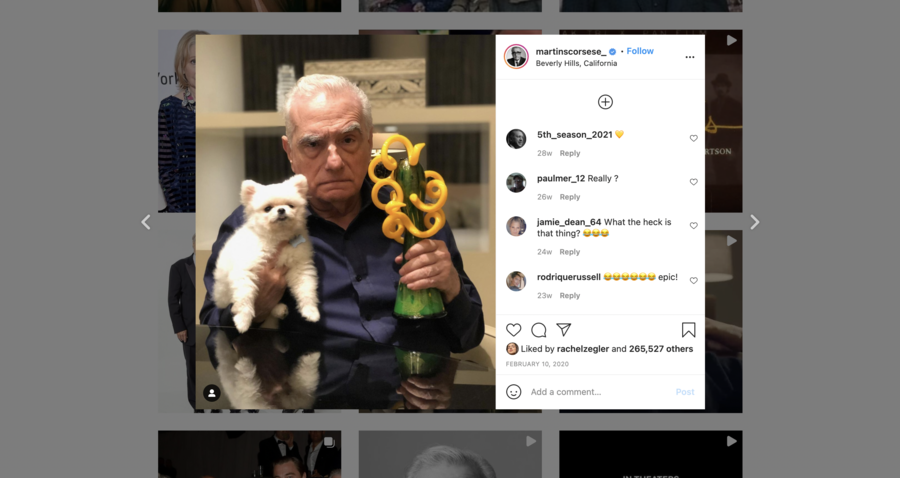 (Source: Instagram screenshot taken on Fri September 10 15:35:29 2021 UTC)
The photo seen in the Facebook post is nowhere on Scorsese's verified Instagram.
The photo, sans the Snyder cut DVD, is actually from a Rolex promotional shoot. It can be seen on SwissWatchExpo.com along with other photos of Scorsese wearing Rolex watches throughout his career.