STORY UPDATED: check for updates below.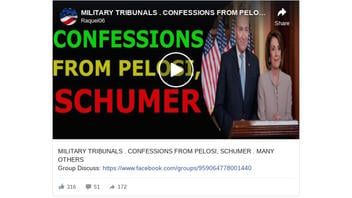 Did House Speaker Nancy Pelosi, Senate Majority Leader Chuck Schumer and many others make confessions in military tribunals? No, that's not true: A video does not show a military tribunal with Pelosi and Schumer on trial. Instead, it's a photograph of Pelosi and Schumer at the U.S. Capitol in 2020 overlaid with audio of people talking about conspiracy theories regarding the 2020 election, Pelosi and Schumer.
Pelosi and Schumer have been seen in public at times when the trial was purported to be underway. The U.S. Department of Defense has told Lead Stories multiple times that it would have no authority to conduct military trials of U.S. civilian officials and that none have taken place. Lead Stories has debunked multiple stories containing false claims about elected and government officials as well as famous people being arrested and convicted of crimes at the U.S. prison in Guantanamo Bay in Cuba.
The claim appeared as a Facebook post (archived here) on September 9, 2021. It opened:
MILITARY TRIBUNALS . CONFESSIONS FROM PELOSI, SCHUMER . MANY OTHERS
This is what the post looked like on Facebook at the time of writing:
(Source: Facebook screenshot taken on Fri Sep 10 16:26:09 2021 UTC)
The image in the video of Pelosi and Schumer is from June 8, 2020, when they wore Ghanaian kente cloth in the U.S. Capitol to kneel in honor of George Floyd. NPR covered the event.
In the video, two off-camera women talk about conspiracy theories about the 2020 election, QAnon and adrenochrome.
At 4:00 one says:
There will be confessions from Pelosi, Schumer and many others involved in trying to overthrow this sitting president.
Neither Pelosi nor Schumer have been arrested, taken to Guantanamo Bay, put on a military tribunal or confessed to any crimes.
The people in the video recycle the unfounded QAnon conspiracy theory, one in a continuing series of prophecies that don't come true, that claim a secret shadow government is running the United States but that former President Donald Trump is waging a war, or "the storm," against a cabal of evil Democrats, Hollywood elites and satanists sex trafficking children worldwide, killing them and eating them. This is not supported by any public evidence and has been debunked by Lead Stories and independently by national news outlets including The New York Times.
Pelosi and Schumer have been seen in public since the date of the purported tribunals.
Pelosi posted a tweet on September 9, 2021, where she was on video:
Grateful to receive an honorary degree yesterday from @SmithCollege as a part of their Year on Democracies. Watch my Presidential Colloquium for this event below. https://t.co/aYxVfCxQXH

-- Nancy Pelosi (@SpeakerPelosi) September 9, 2021
Schumer posted a picture on his Twitter account on September 9, 2021, from an event he attended in person:
Thank you to the Divine Nine, Alphas, Deltas, Zetas, Kappa Alpha Psi, Sigmas, and more of Rochester for their advocacy and for joining @NewYorkStateAG and me in our push to pass the Black Maternal Health Momnibus Act and to expand Medicaid for new moms--especially moms of color. pic.twitter.com/034vxye5kr

-- Chuck Schumer (@SenSchumer) September 10, 2021
There was a proliferation, in the summer of 2021, of similar videos. Wild claims are made in the social media post's caption. A still image opens the video. In the lower left- or right-hand corner of the video is a small looping video avatar of a newsperson talking, but the voice-over is not in sync with the avatar's mouth. In the upper left corner is an avatar of a walking elephant, swimming shark or walking dinosaur. The voice-over content often does not match the caption. The superimposed avatars and disjointed audio may be a way to circumvent copyright rules by which social media platforms automatically shut down stolen content. The videos run long enough to allow creators to monetize traffic and the URL in the social media caption encourages users to sign up for Facebook groups with purported political aims.
2021-09-10T19:04:08Z

2021-09-10T19:04:08Z

Updated to remove reference to gamer livestream formats.