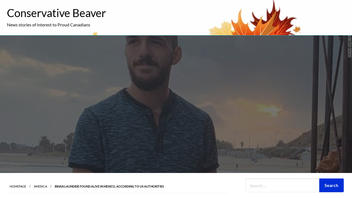 Did U.S. authorities find Brian Laundrie, fiance of the late Gabby Petito, alive in Mexico? No, there's no evidence of that: The site where the claim was made, Conservative Beaver, is known for creating false stories that are bound to get attention and go viral as a result. There is no evidence from any reputable news organization or law enforcement authorities that Laundrie has been found as of this writing.
The claim appeared in an article published by Conservative Beaver on October 17, 2021, titled "Brian Laundrie found ALIVE in Mexico, according to US authorities" (archived here) which opened:
Beaver Exclusive Brian Laundrie has been found alive in Mexico, and is in the process of being returned to Florida.
Users on social media only saw this title, description and thumbnail:
This is what the article looked like at the time of writing: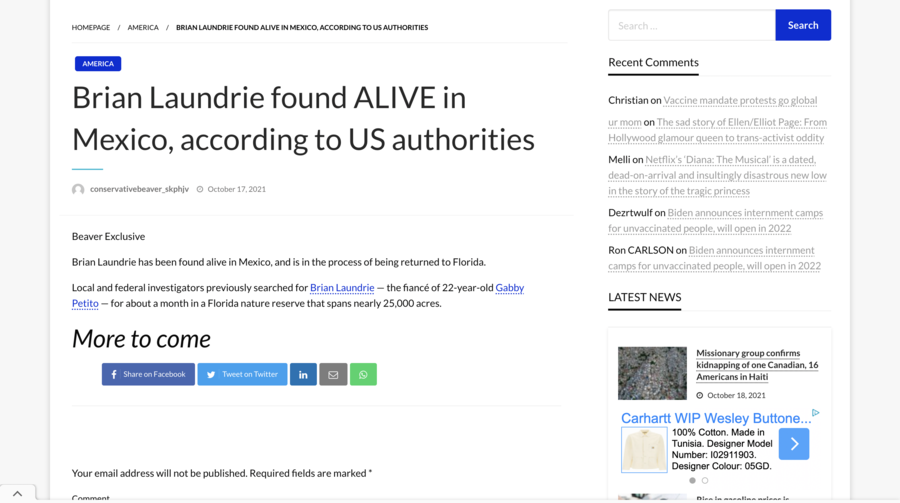 The two-paragraph article gave no details to substantiate the claim.
While there has been speculation and unconfirmed reports of Laundrie purportedly sighted in various locations, there has been no confirmation of such sightings. And the Conservative Beaver's headline citing "US authorities" for the article's claim has no basis in fact, as a Google search for "Brian Laundrie U.S. authorities" shows at the time of this writing.
Conservative Beaver has a history false stories. Lead Stories has debunked some of them; here is an article debunking the Conservative Beaver claim that Justin Trudeau, prime minister of Canada, has a brother who was arrested on charges of sexual conduct with a minor. Here is another of our articles debunking the Conservative Beaver article claiming the CEO of Disney was jailed on child sex abuse charges. Here are more of our articles debunking Conservative Beaver claims.