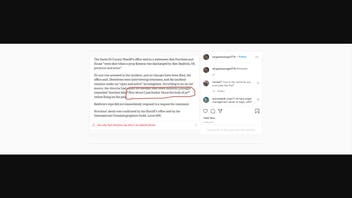 Did a report about the accidental shooting of two crew members by actor Alec Baldwin on the set of "Rust," a western film, include a section about Baldwin saying "How about I just fuckin' shoot the both of ya?" No, that's not true: an excerpt of a Variety article was altered in a screenshot to include the quote, which is not found in the article.
The claim appeared in an Instagram post (archived here) published on October 22, 2021. It featured an image of what seemed to be a screenshot of an article. The image read in part:
No one was arrested in the incident, and no charges have been filed, the office said. Detectives were interviewing witnesses, and the incident remains under an "open and active" investigation. According to an on-set source,the director had called for another take when Baldwin (jokingly) remarked 'Another take? How about I just fuckin' shoot the both of ya?' before firing on the pair.
This is how the post looked on Instagram on October 25, 2021:
(Source: Instagram screenshot taken on Mon Oct 25 17:16:11 2021 UTC)
Most of the information in the above excerpt from the post is included in a Variety article about the accident published on October 21, 2021. However, at the time of writing, the article does not include the last sentence with the "How about I just fuckin' shoot the both of ya" quote.
Lead Stories also searched for the quote in all of the archived versions of the article from October 22, 2021, which do not include the quote. There are no relevant or trustworthy search results of the quote via Google search.
According to reports about official court documents regarding the case, Baldwin was told that the prop gun was safe before it was discharged and killed Halyna Hutchins, the film's director of photography, and injured Joel Souza, the director of the film.