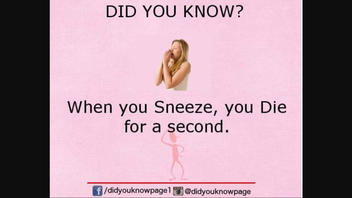 Do people "die for a second" when they sneeze? No, that's not true: The Library of Congress answered that question, saying that the myth may have originated from the pressure change people feel in their chest after sneezing. There may be a more forceful heartbeat after a sneeze, but the Winchester Hospital in Massachusetts' medical experts say the electrical activity of a heart is uninterrupted during a sneeze.
The claim appeared November 16, 2021 in a now-deleted Facebook post on the @didyouknowpage account. Here is the image that was on the post (archived here). The post read:
DID YOU KNOW? When you Sneeze, you Die for a second.
Here is what the post looked like at the time of writing: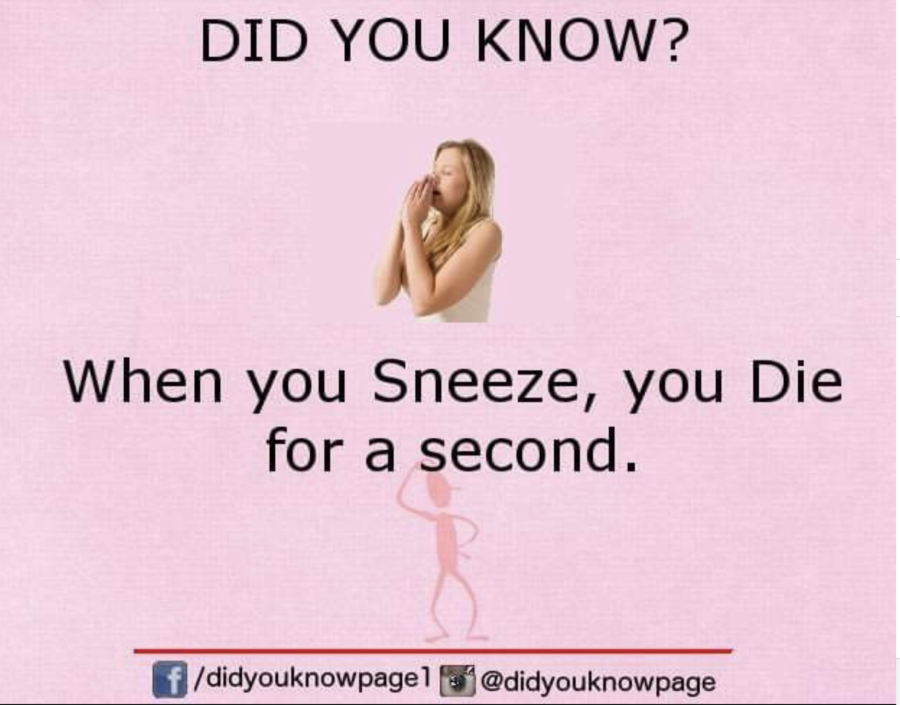 (Source: Screenshot taken on Tue Nov 23 14:48:52 2021 UTC)
The Library of Congress has an "Everyday Mysteries" article titled "Does your heart stop when you sneeze?"
The answer:
No, your heart does not stop when you sneeze... So where did the myth originate that your heart stops when you sneeze? The changing pressure in your chest due to sneezing also changes your blood flow, which may change the rhythm of your heartbeat. Dr. Richard Conti, past president of the American College of Cardiology, speculates that the belief that the heart actually comes to a stop during a sneeze could result from the sensation of having the heart "skip a beat." When there is a prolonged delay before the heart's next beat, he said, that beat is then more forceful and more noticeable, perhaps as a funny sensation in the throat or upper chest area...
The Winchester Hospital in Winchester, Massachusetts, responded similarly in the Health Library section of its website:
Although it may seem that your heart takes a break during a sneeze, this is actually not the case. When you first inhale before sneezing, the pressure in your chest increases. Then, as you exhale forcefully during the sneeze the pressure drops. Alterations in blood flow to your heart produced by these pressure changes can affect the heart rate. However, the electrical activity in the heart marches on unimpeded--you remain very much alive throughout your sneeze!
An article on healthline.com also discounts the myth that the heart skips a beat when you sneeze, and offers a detailed medical explanation of what does happen when you sneeze.