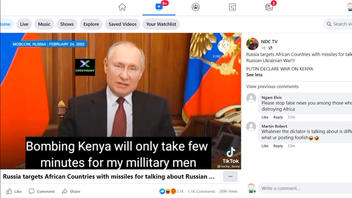 Did Russia target Africa with missiles for talking about its war with Ukraine? And did Russian President Vladimir Putin declare war on Kenya? No, neither of those claims are true: Putin does not threaten Africa -- or, more specifically, Kenya -- in a TikTok video that was also posted to Facebook. The edited and miscaptioned clip is taken out of context and does not mention Africa or Kenya at all. The original video is from February 24, 2022, when Putin announced his intention to conduct a military operation in Ukraine.
The claim appeared in a Facebook post (archived here) on February 27, 2022. It opens:
Russia targets African Countries with missiles for talking about Russian Ukrainian War!!!

PUTIN DECLARE WAR ON KENYA
This is what the post looked like on Facebook on February 28, 2022: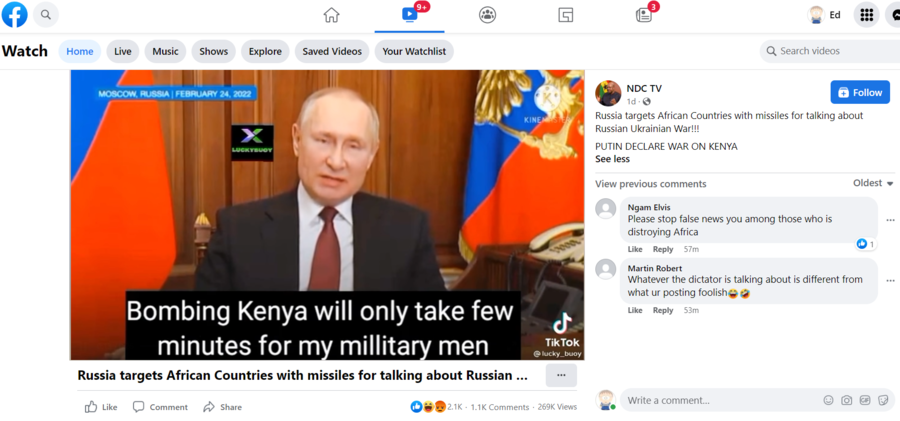 (Source: Facebook screenshot taken on Mon Feb 28 15:48:41 2022 UTC)
The Putin video is edited, taken out of context and falsely translated. This is what the screen captions claim the Russian leader is saying:
I have made a decision of a military operation. How can Kenya invade into our missions? Kenya has put itself in a war that it can't even shoot a single bullet. Bombing Kenya will only take a few minutes for my millitary men. As from now we'll start sending our missiles to Nairobi so we can destruct Kenya.
Boriana Milanova Treadwell, a senior lecturer of broadcast journalism at the University of Miami, translated the clip from Russian to English for Lead Stories on February 28, 2022. This is her translation:
A decision has been made to make a special military operation. Whoever tries to create a dangerous situation for our country and for us must know that Russia's answer will be immediate and we will cause you such consequences that you haven't encountered in your history ever.
While Putin's statement could be considered a general warning for the rest of the world, there's no mention of Africa or Kenya as the post claims in its falsely translated version.