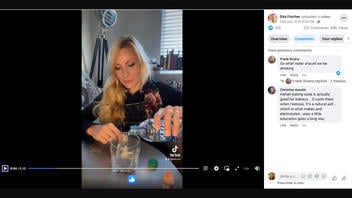 Is bottled water harmful? No, that's not true: A 25-second video that attempts to show "a dirty secret that alkaline water companies don't want you to know" doesn't show anything beyond a liquid and other substances being dumped into a glass.
The claim appeared in a TikTok video posted on Facebook (archived here) on February 15, 2022. It opened:
Here's a dirty secret that alkaline water companies don't want you to know.
This is what the post looked like on Facebook at the time of writing: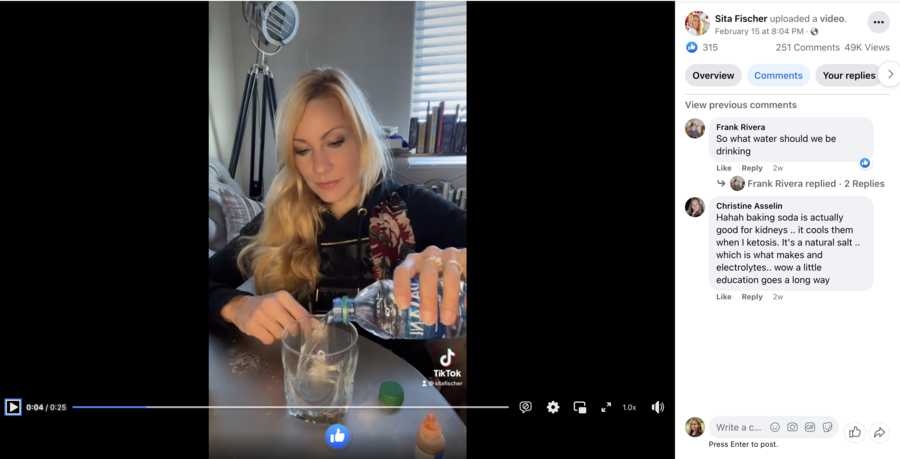 (Source: Facebook screenshot taken on Tue Mar 15 19:07:30 2022 UTC)
The Facebook video shows a woman pouring a liquid from what appears to be a Dasani water bottle into a clear glass. As a female narrator says, "They use purified water, which is highly acidic ..." the woman on camera quickly puts drops into the liquid in the glass and the narrator says, "Look at the pH drops turning orange." The video continues with the narrator saying water producers "add chemicals, like baking soda, which is very bad for your kidneys" as the woman on camera dumps powder from a box labeled "baking soda" into the glass. "Check this out, now it's alkaline," the narrator says, "not good for you."
There is nothing to substantiate the narrator's descriptions of the various substances used in the video, including nothing to prove that the water poured from the bottle was the original product in the bottle.
The video claims that alkaline companies use purified water that is highly acidic and add chemicals to make it alkaline.
Lead Stories contacted Brian Nummer, a food safety specialist at Utah State University's Food Safety Extension, about the acidity claim. He wrote on March 15, 2022, that water companies make alkaline water either by getting the water from a source that has dissolved alkaline minerals in it or using electrolysis to separate out ions to alter the water's pH.
Nummer said it's his opinion that the acidic versus alkaline water debate is for marketing reasons, mainly because water basically has nothing in it, so very little acidic or alkaline salts are needed to change its pH.
Jonathan Allen, director of graduate programs for food science at North Carolina State University, also spoke to Lead Stories about this claim. In a March 15, 2022, email he wrote:
I have not tested Dasani water, but if they label it as alkaline, it is probably not acidic ... It's unlikely that Dasani throws a handful of baking soda into a glass of water. The 'not healthy' statement is questionable. Most bottled water companies add minerals for taste improvement to purified water, which can come from municipal water or other sources and could have the same total salt level as an alkaline water.
If bottled water were acidic, it wouldn't be harmful to ingest, Allen said. We consume much more acidic items like orange juice, yogurt, ketchup, along with other carbonated beverages, he said. Our stomach contents are much more acidic than anything we eat or drink, Allen said.
The mineral concentration and total acidity are extremely small in water compared to other beverages and foods, he said.
We reached out to Dasani for a comment on this claim. We will update this story with their response if we receive one.