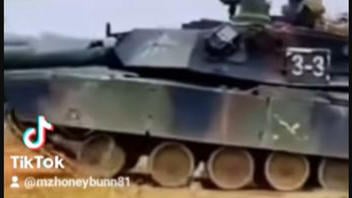 Does this video show a battle between Russian and Ukrainian tanks? No, that's not true: This video shows American-made Abrams tanks in a training exercise.
The video was posted on TikTok by an account called @mzhoneybunn81 and also posted on Facebook by Charnee Anderson on February 27, 2022, with a caption that had 11 hashtags:
Shocking... #viralreels #reelsvideo #trendingreels #fypシ゚viral #fypシ #reelsinstagram #trending #russia #fyp #tiktokviral #ukraine
This is how the post appeared at the time of writing: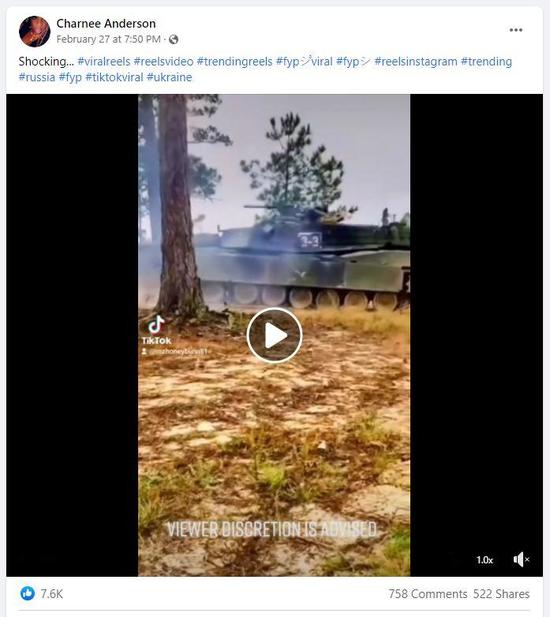 (Image source: Facebook screenshot taken on Mon Mar 07 16:29:37 2022 UTC)

Lead Stories was not able to trace the origin of this video, when or where it was filmed, so we reached out to the Media Relations Division of Army Public Affairs at the Pentagon and shared some stills taken from the video to see if they could offer some insight. The Duty Officer responded:
I'm not able to confirm or deny the video's authenticity but from the screen grabs you sent, that is an Abrams tank in a training environment as noted by the blank firing adaptor on the .50 machine gun at the commander's cupola. This is neither a Russian or Ukrainian tank.
The TikTok video is watermarked with a warning label, "VIEWER DISCRETION IS ADVISED" although the footage of the tank training maneuvers is not graphic. The TikTok account @mzhoneybunn81 has posted several military combat-themed reels to TikTok with misleading and engagement-baiting hashtags in the days since Russia invaded Ukraine. One hashtag they use is #fyp, which stands for "For You Page," the TikTok landing page with recommended content according to a user's past viewing. Another post has footage from a video game showing a jet being shot down. That post used these hashtags:
Speechless.... #realorfake #sad #breakingnews #ukraine #russia #fyp #sus #idk #graphicdesign #logic #thelies #fairusedisclaimer #trending #trend #why #foreducationalpurposesonly #fairuse #shadowbanned #viralvideo
After the video of the tanks went viral, Anderson boasted about achieving one million views. On March 6, 2022, she posted on Facebook and on Instagram:
1 Million Views 🤪😜❤️💯🎉🎉🎉🎉🎉 #thankyou
Another post on TikTok was captioned:
When Your TikTok SHADOW BANNED BUT GO VIRAL ON OTHER PLATFORMS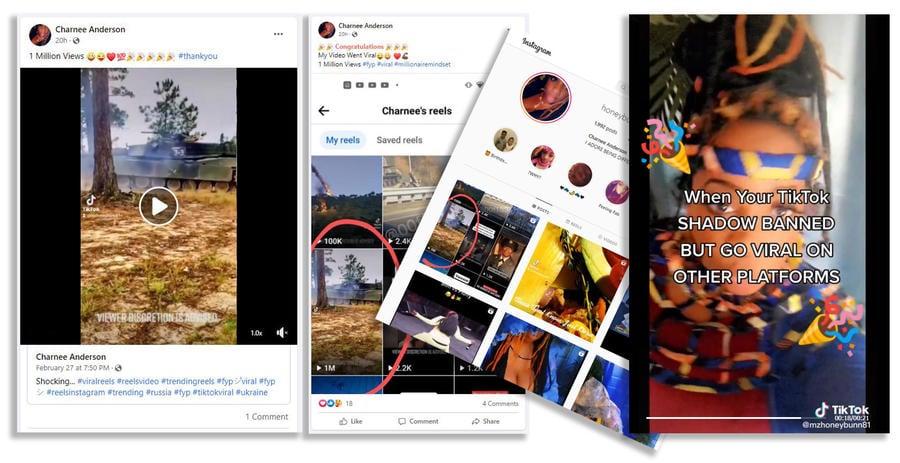 (Image source Lead Stories composite image of Facebook, Instagram, and TikTok screenshots taken on Mon Mar 07 17:42:15 2022 UTC)
Other Lead Stories fact checks related to the 2022 Russia-Ukraine conflict can be found here.