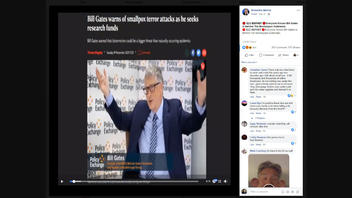 Is Bill Gates behind the 2022 monkeypox outbreak? No, that's not true: The claim wildly misconstrues a November 2021 comment Gates made about pandemic preparedness. He was discussing the possibility of simulating a smallpox attack in order to build global readiness. Gates did not mention monkeypox and there is no evidence to support the allegation that he is, in any way, behind the outbreak.
The claim appeared in a Facebook post on May 21, 2022. The post includes video and a caption that reads:
Everyone Knows Bill Gates Is Behind The Monkeypox Outbreaks
This is what the post looked like on Facebook at the time of writing: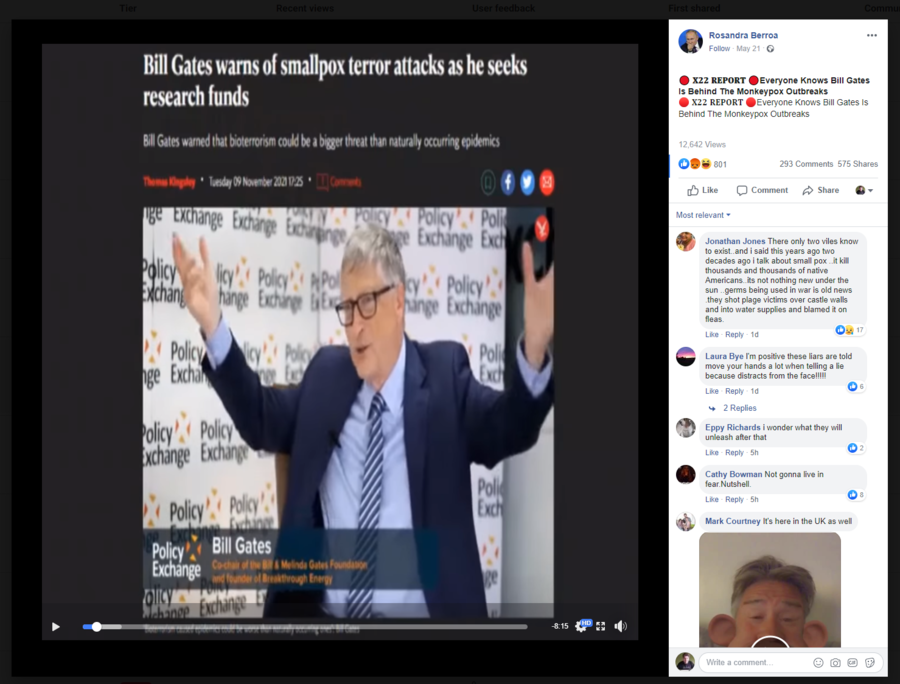 (Source: Facebook screenshot taken on Tue May 24 15:12:42 2022 UTC)
The video opens with a clip of Gates speaking in November 2021. He says:
It'll take probably about a billion a year for a pandemic task force at the WHO level, which is doing the surveillance and actually doing what I call 'germ games,' where you practice. You say, OK, what if a bioterrorist brought smallpox to 10 airports? You know, how would the world respond to that?
Gates was responding to an interview question about pandemic preparedness. The exchange can be seen here and below:
It's clear from the full clip that Gates was talking about a possible smallpox attack simulation in the context of preparing for and preventing a future pandemic. He continues at 1:57:
There's naturally caused epidemics and bioterrorism-caused epidemics that could even be way worse than what we experience today, and yet the advances in medical science should give us tools that, you know, we could do dramatically better.
The Facebook video does not include that part of the clip and focuses only on the fact that Gates spoke about a smallpox attack, suggesting he is somehow responsible for the 2022 monkeypox outbreak.
In the social media post, at 1:10, a man says, sarcastically:
Oh yeah, no, let's not arrest the dude who keeps talking about arson and then arson pops up. That wouldn't make any sense. We shouldn't even look into it. Holy shit, Bill Gates, you're a monster.
That logic, akin to saying a meteorologist is responsible for hurricanes because he talks about them, is not sound. Just because Gates spoke publicly about pandemic preparedness in the past doesn't mean he's responsible for the monkeypox outbreak. Note that in the clip, Gates doesn't even mention monkeypox.
Plus, the man in the Facebook video makes at least two other claims that Lead Stories has previously debunked. At 1:53, he says:
They want to unleash monkeypox on us.
He offers no evidence to support his claim that monkeypox is being used, intentionally, to cause disease. Lead Stories has previously reported that governments are not waging biological war via monkeypox.
We have also reported that the U.S. government is not set to cede its sovereignty to the World Health Organization. The man in the Facebook post makes that false claim just before the 1-minute mark in the video.