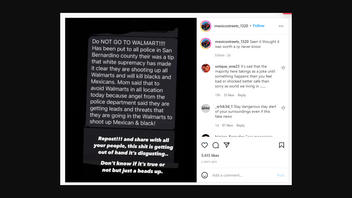 Have the police in San Bernardino County shared that they received a tip that "white supremacy has made it clear they are shooting up all Walmarts and will kill blacks and Mexicans"? No, that's not true: The San Bernardino County, California, Sheriff's Department told Lead Stories they have no information "that indicates a credible threat" as of June 6, 2022.
The claim appeared in an Instagram post on June 4, 2022. It opens:
Do NOT GO TO WALMART!!!!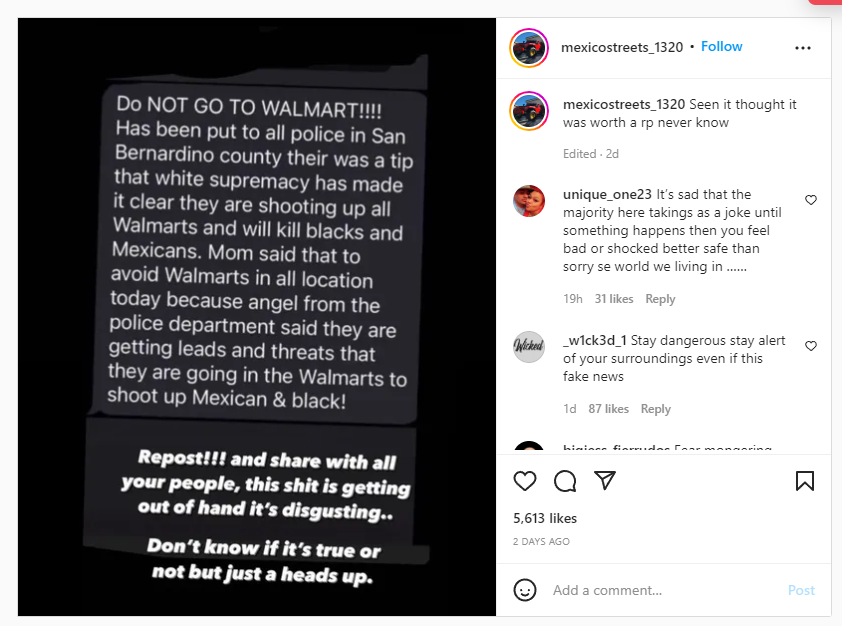 (Source: Instagram screenshot taken on Mon Jun 6 12:28:54 2022 UTC)
Although the post does not specify a state -- just "San Bernardino county" -- the only San Bernardino County in the United States is in California.
Mara Rodriguez, the San Bernardino Sheriff's Department public information officer, told Lead Stories via email on June 6, 2022, that investigators found nothing to make the threat credible:
Our Intel team has looked into this posting and have found nothing that indicates a credible threat. We continue to monitor any possible threats and work closely with other agencies to maintain the safety of the public.
The warning went viral several weeks after a shooter who was a self-described white supremacist killed 10 people at the Tops Friendly Markets in Buffalo, New York's predominantly Black east side.
A racist killing occurred in August 2019 when a Texas man opened fire at a Walmart in Dallas, killing 23 people and injuring dozens more. The shooter posted a document online that said, "This attack is a response to the Hispanic invasion of Texas," according to NBC News.