Do "trans kids" not exist in the "rest of the world" outside the United States or only in "certain countries"? No, that's not true: There have been multiple news reports about transgender children around the globe, from Japan to South Africa to Colombia and more. The United Nations runs an international campaign that began in India to "raise awareness among parents, teachers, and the wider community about gender identity during childhood," and works throughout the world.
The claim appeared in an Instagram post on June 11, 2022. It opens with three quizzical emojis:



🤔🤔🤔
This is what the post looked like on Instagram at the time of writing: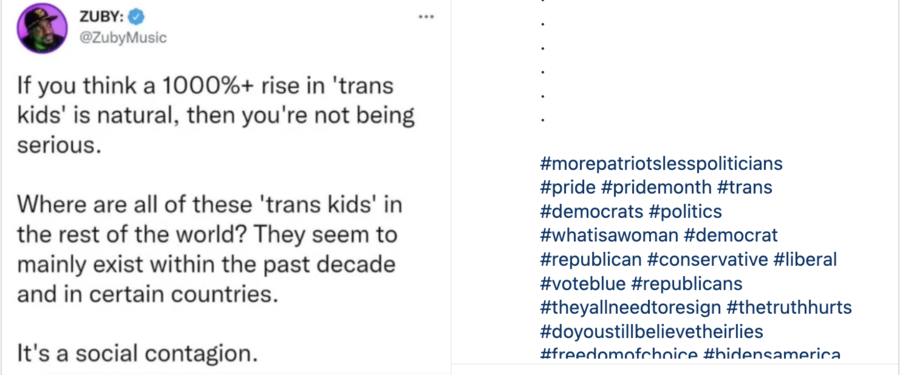 (Source: Instagram screenshot taken on Thu Jun 30 19:13:22 2022 UTC)
The post reads in full:
If you think a 1000%+ rise in 'trans kids' is natural, then you're not being serious.

Where are all of these 'trans kids' in the rest of the world? They seem to mainly exist within the past decade and in certain countries.

It's a social contagion.
There is no evidence that there is a "1000%+ rise in 'trans kids.'" The New York Times published details of a report about Americans that said it was a 100 percent increase, not 1,000 percent, on June 10, 2022, the day before the Instagram post was shared. It stated:
The number of young people who identify as transgender has nearly doubled in recent years, according to a new report that captures a stark generational shift and emerging societal embrace of a diversity of gender identities.

The analysis, relying on government health surveys conducted from 2017 to 2020, estimated that 1.4 percent of 13- to 17-year-olds and 1.3 percent of 18- to 24-year-olds were transgender, compared with about 0.5 percent of all adults.

Those figures illustrated a significant rise since the researchers' previous report in 2017, though the analyses used different methods.
The United Nations announced an international campaign titled Unbox Me in March 2022 "to advocate for the rights of transgender children," launched by UNAIDS, according to their website:
GENEVA, 30 March 2022--In the lead-up to the International Transgender Day of Visibility, on 31 March, UNAIDS has launched an initiative to raise awareness among parents, teachers and the wider community about gender identity during childhood.
The World Professional Association for Transgender Health, an international organization, released a letter in October 2021 supporting transgender youth in the "scientific discussions on the use of pubertal delay and hormone therapy for transgender and gender diverse youth."
A New York Times opinion column titled, "Where in the World Are All the Trans Children? Everywhere," was published in June 2021, a full year before the claim was posted. It was written by the parent of a transgender child who said they had received messages about transgender children from around the world. Parents from Johannesburg, South Africa; Paris; Gurugram, India, and Kyushu, Japan, had contacted the author to share stories about their own transgender children.
In January 2019 the BBC reported on transgender children in Cape Town, South Africa, in an article titled, "The Cape Town schools learning from transgender students." It opened with:
As an increasing number of young South Africans reveal that their gender identities differ from their sex at birth, schools are learning about the challenges these students face, writes the BBC's Mohammed Allie from Cape Town.
And transgender kids are not just coming out in the last decade, as the post claims. English professor Jules Gill-Peterson, who wrote "Histories of the Transgender Child," noted in a New York Times column that "As far back as historians have found evidence of transgender people, they've found transgender children."