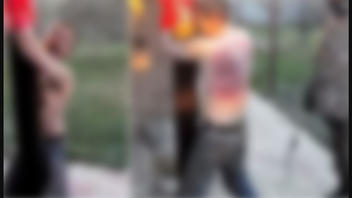 Was a pedophile who molested a 2-year-old girl whipped to death by Eddie Lavelle Wilson, a man who "loves the child dearly"? No, that's not true: These stills were taken from a real video that was filmed in the area around Kommunar in eastern Ukraine and widely distributed in 2016. The video shows a man taped to a post who is whipped with electric cables by a masked man wearing camouflage. The victim in this video has been identified as Alexei Frumkin and the man who tortured him has been identified as Vasily Petrovich, a Russian militant.
Frumkin went missing in late 2014, more than a year before the video of his torture was posted online. He is presumed dead. In 2017 fake news stories portraying Frumkin as a pedophile were spun around the graphic photos. Some reporting has characterized Frumkin as potentially a drug dealer because of dialogue in the video. This has not been verified.
On September 14, 2017, Eddie Lavell Wilson posted a screenshot of a "Lol News" fake news headline with graphic still images on Facebook. In the caption of the post Wilson inserted his own name as the vigilante executioner who had purportedly whipped a pedophile to death and then turned himself in to authorities. In July of 2022, the 2017 post began to circulate on Facebook again. The caption of the post says:
BREAKING NEWS!!!
Eddie Lavell Wilson, of Pascagoula, Ms. surrendered himself in to Authorities with out incident late Wednesday night after slowly but surely whipping this Pedophile to death for the lustful touching of a sweet, innocent 2 year old little girl that he loves dearly. Eddie is seen wearing a camouflage outfit whipping this man for 48 hours an its all captured on video. Mr. Wilson was released on a signature Bond. The name of the Pedophile will be released soon.
The text in the screenshot reads:
MAN WHIPPED TO DEATH FOR MOLESTING 2 YEAR OLD BABY Lol News...
Lol News
This is how the post appeared at the time of writing: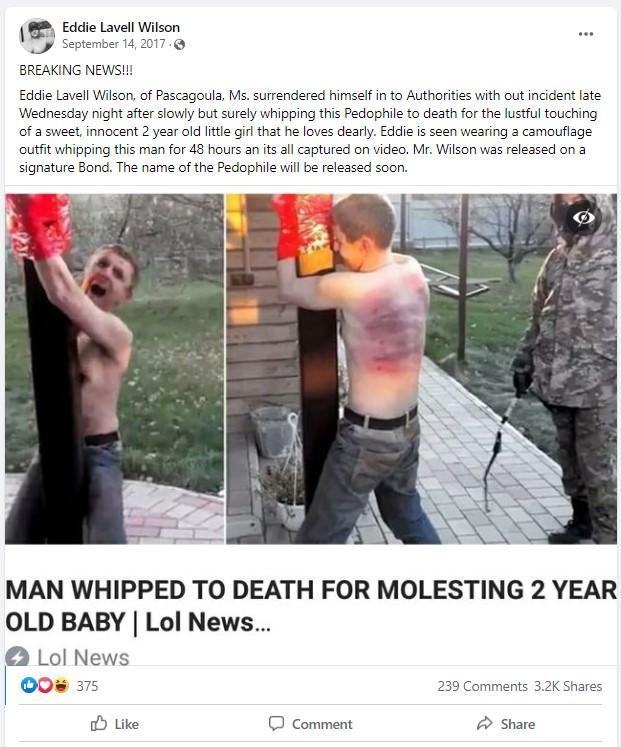 (Image source: Facebook screenshot taken on Wed Jul 06 15:28:54 2022 UTC)
Other than the photos, which show a real person being tortured, nothing in Wilson's Facebook post is true.
The man in the photos, Alexei Frumkin, went missing in 2014, long before the video surfaced showing him being tortured. An article on dailymail.co.uk published on February 16, 2016, translates some of the dialogue from the video. In the video accusations were made that Frumkin is a drug dealer. The man who is beating him in the video says:
Drug dealers and junkies please come here to us, we have a way to deal with people like you. Come to us and we will cure all of you. But this fellow will be slaughtered as a dog. He will live until he has stopped talking about his fellow drug dealers and has given us information, and then he will be dead.
In 2017 fake news outlets seized on the shocking video and photos and added a false vigilante justice narrative, labeling the man a pedophile. Many of the websites that posted the false story no longer exist, including the notorious Yournewswire.com, which rebranded itself as NewsPunch by changing its domain name. Or the links return an error message. Some of the fake news headlines are archived or preserved as screenshots (here and here).
On October 16, 2018, the false pedophile narrative was debunked by Snopes.
On February 13, 2016, apauluskp.livejournal.com (archived here) wrote about the release of the video on the Russian social media site VKontakte (VK). Included in the blog post is a screenshot of the VK post from the special reconnaissance unit Troy with the Donetsk People's Republic (DPR). The text of that post, translated by Google, reads:
TROY SPN TEAM ATTENTION!!! (make it public)
Today we are publishing a video received by the SMERSH OSPN Troya counterintelligence service way.
In this video, OLKHON (full name not disclosed in the public domain) brutally tortures and promises to beat to death (which he later did) a resident of the village of Kommunar, who subsequently went missing and the investigating authorities of the DPR are searching for him upon application his relatives about missing. All materials relating to the illegal, criminal activities of the above-mentioned 'FIGHTER FOR DONBASS FREEDOM' will be transferred with accompanying materials to the military prosecutor's office of the Russian Federation (since he is a citizen of the Russian Federation) for a decision on the fact of a war crime. According to preliminary, not fully verified information, the name and surname of the tortured resident of the village of Kommunar: Alexei Frumkin, who went missing about a year ago. EVERYONE WHO KNOWS ABOUT MILITARY CRIMES OF OLKHON IN THE TERRITORY OF THE DPR AND LPR - PLEASE INFORM THE ADMINISTRATOR OF THE GROUP, OR PERSONALLY THE COMMANDER OF THE OSPN TROY VLADIMIR NOVIKOV
https://vk.com/alabai_novorossia !!!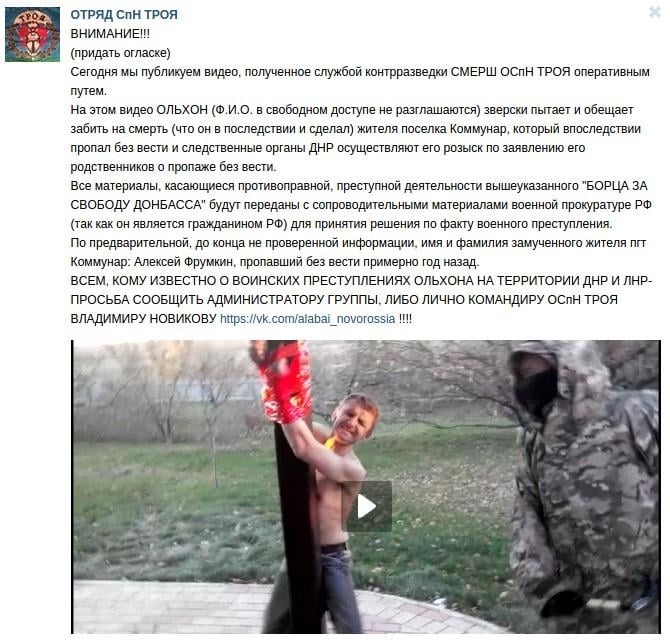 (Image source: apauluskp.livejournal.com screenshot taken on Wed Jul 06 17:04:58 2022 UTC)
On February 17, 2016, the German website bild.de published an article titled, "Putin's henchmen implicated in torture scandal." This article describes some of Frumkin's background:
Alex Frumkin comes from the city of Makiivka, east of Donetsk and would be 42 years old today. He was a great dog lover, appeared in many photos on a social network profile with German shepherds and his pit bull. When the unrest in eastern Ukraine began in April 2014, he protested in front of his hometown's town hall against the Ukrainian government and for independence for the region Donetsk.

In photos from the summer of 2014, he poses with wine bottles and weapons, among other things, but not as an active fighter against the Ukrainian army. It remains unclear whether he actually dealt in drugs, which the Russian militia officers later accused him of.

The last time he logged into his Russian social network 'OK' was on October 24, 2014, shortly before the Russian Petrovich said he made an example of himself.