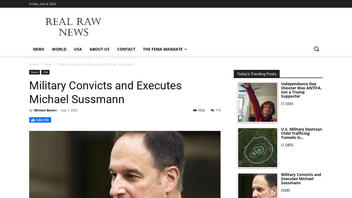 Did the military convict and execute former Hillary Clinton campaign lawyer Michael Sussmann? No, that's not true: Sussmann was not convicted or executed and the claim was made without documentary evidence. The website that posted this claim is known for its satirical content.
The claim originated in an article (archived here) titled "Military Convicts and Executes Michael Sussmann" and published on July 1, 2022. It opened:
At his military tribunal on 22 June, former Clinton lawyer Michael Sussmann said in an opening statement that he thought he was "home free" after a Federal D.C. jury acquitted him of lying to the FBI about having knowledge of a computer server that linked President Trump to a Moscow Bank and to Russian President Vladimir Putin.
Users on social media saw this title, description and thumbnail:
The article alleged that Sussmann was convicted by a military tribunal and executed by gunshot on June 22, 2022. However, major media outlets -- including CNN, ABC News, Fox News, NBC News, MSNBC News, NPR, The New York Times, The Washington Post and Politico -- have not reported any news about Sussmann being convicted or executed on June 22, 2022. Such an oversight from so many publications, especially after Sussmann was indicted in September 2021, alleging he lied to the FBI, and later acquitted, would be strange.
According to the Department of Defense, Sussmann hasn't been convicted or executed. In an email to Lead Stories sent on July 8, 2022, the Department of Defense told us:
This is not true.
Real Raw News has a long history of publishing false claims in mock news stories, many of them about convictions and executions of various public figures at Naval Station Guantanamo Bay in Cuba. For example, the site reported former Secretary of State Hillary Clinton was hanged (she wasn't); former White House Chief of Staff John Podesta was executed (he wasn't); and that "the military" convicted former Attorney General William Barr on charges of treason (it didn't).
The website for Real Raw News includes a disclaimer that warns readers not to take its content too seriously. Specifically, it says:
Information on this website is for informational and educational and entertainment purposes. This website contains humor, parody, and satire. We have included this disclaimer for our protection, on the advice on legal counsel.

(Source: RealRawNews.com screenshot taken Tue Aug 3 16:39:48 UTC 2021)
Lead Stories has covered claims published by Real Raw News in the past. Previous Lead Stories debunks of Real Raw News items is collected here.