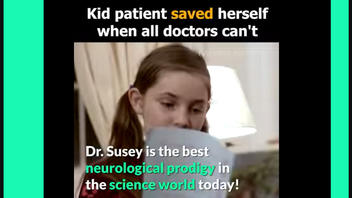 Did a child named Susey who was completely paralyzed with cerebral palsy, "no different than a statue," become completely healed and acquire the "intelligence of a college student" when she was only 8? Was she granted scholarships where she studied surgery, medicine and neurology and in her first year after graduation cured 4,000 patients? No, none of that is true: Lead Stories could not find any evidence of this story being real. The real stories that are associated with the photos and video clips used in this product promotion are not associated with a child prodigy and neurologist named Susey or a cure made from a tea tree plant extract.
The video was posted on Facebook on July 22, 2022, by the page Tender Panda under the title "Talented Kid Doctor." The post is coupled with a link to a sales page on twinklepatty.com (archived here). The website features different photos and a nearly verbatim text version of the script read in the video. The caption of the post reads:
This kid doctor is faster and more accurate than any machine,

All the while being the youngest neurosurgeon in the world.
The captioning on the video begins:
Kid patient saved herself when all doctors can't
Couldn't move an inch for 3 years, this rookie neurosurgeon was only a kid
A second scene featuring Deutscher (pictured below) occurs about 1:57 into the deceptive video. The narration says:
She eventually returned back to school, surprising everyone as she exceeded all her peers with an intelligence of a college student. She even started understanding biochemistry at just 8, and soon got a university scholarship to study multiple degrees, in surgery, medicine and neurology!

'I could never imagine being here if it weren't for my mom. It was like being trapped inside a shell of a person. No matter how hard I tried to move and screamed inside. None would notice me.'
After the longest specialization in the world of medicine, Zadranka Nikolina Sesar at the age of 33 became the first female neurosurgeon in the history of Croatia. She operates with experienced colleagues at the Sisters of Mercy hospital.
At the end of 2008, the young boy, who was only identified as L.B., suffered cardiac arrest and subsequently became brain damaged and paralyzed in a vegetative state. The child was diagnosed with infantile cerebral palsy, a condition doctors at Catholic Hospital Bochum, part of the University Clinic of RUB in Germany, didn't know how to treat. However, the boy's parents didn't want to give up on him. They suggested using stem cells from cord blood that was frozen when he was born.

Doctors administered the blood nine weeks after the boy went into cardiac arrest and studied how his recovery progressed. Within two months, his spasticity decreased significantly. He was able to see, sit, smile, and speak simple words. Four months after they administered the blood, he was eating independently, walking with assistance and forming sentences of up to four words.
The twinklepatty.com article claims that the "magic" found by "Dr. Ira" in the extracted essence of these leaves from Susey was tested in a clinical trial:
To test the effectiveness of Otomi™, a clinical trial was conducted with over 2,000 willing volunteers. The first volunteer to try was none other than Susey.

'It was surprisingly better than the scented bag my mom gave. Ever since I used it in my routine, I started absorbing even more information than ever.

'Soon, I managed to finish my multiple degrees, only 2 years after enrolling.

'I couldn't thank Dr. Ira enough for the opportunities she gave me. To give back to the community, I became a neurosurgeon and with the help of Otomi™, I was able to cure thousands in the first year.'
A limited amount of research indicates that tea tree oil might be helpful for acne and athlete's foot. One small study suggests that tea tree oil might help with nail fungus. But overall, the research is insufficient to allow clear conclusions to be reached about the use of tea tree oil for these conditions.
Some early research shows that tea tree oil might be promising for treating mite infections at the base of the eyelids (also called ocular demodicosis). The current evidence is insufficient, however, for a clear conclusion.
Some oils may in fact be more harmful than others. However, there are several factors that affect this such as concentration level, and what the product is mixed with. For example, concentrated forms of tea tree oil (melaleuca oil) may cause issues for your pets with only seven or eight drops, whereas another oil may take more or less. Due to the variability in concentration, formulation and possible quality of essential oils, it is best to completely avoid directly applying them to your pet. You should also keep any oils up and out of paws' reach to prevent potential ingestion.