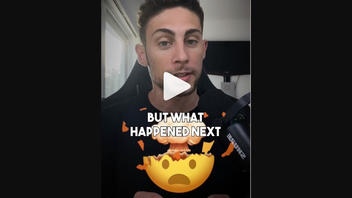 Did McDonald's pay $1.5 million in damages to a Black customer who asked a McDonald's manager for extra napkins and instead received a racist slur? No, that's not true: Court records show that the presiding judge dismissed the customer's lawsuit.
The claim that McDonald's paid $1.5 million to a disgruntled customer appeared in an Instagram video on August 15, 2022, in the apparent account of podcaster-entrepreneur Rom Raviv.
This is what the video looked like on Instagram at the time of writing: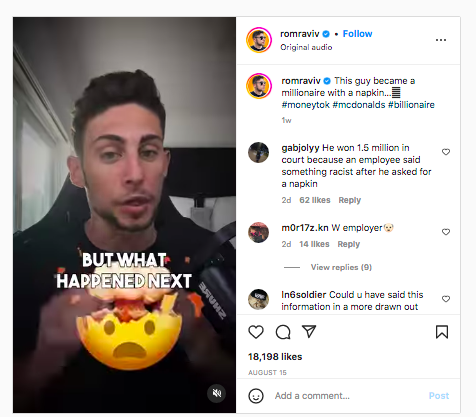 (Source: Instagram screenshot taken on Aug. 25 22:42 2022 UTC)
The video is based on the February 27, 2014, court case of Webster Lucas, a Black man who sued a Pacoima, California, McDonald's and two of its employees for $1.5 million in damages after an allegedly racially charged argument over Lucas' request for extra napkins with his Quarter Pounder with Cheese Deluxe.
Judge Yvette M. Palazuelos of the Superior Court of Los Angeles County dismissed the case on October 3, 2014, court records show.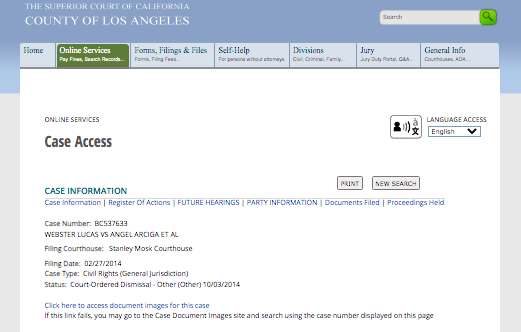 (Source: Los Angeles Superior Court screenshot taken on Aug. 25 16:49 2022 UTC)
On October 1, 2014, the Court also placed Lucas on California's list of vexatious litigants, individuals who repeatedly file cases without merit, among other actions.
Under California law, such litigants cannot file a lawsuit without judicial permission.
The Instagram video, however, gave the Lucas case a different ending:
This guy became a millionaire at a McDanald's and it's all because of a napkin
In his lawsuit, Lucas alleged that he had asked the store manager Angel Arciga, a Hispanic, if he was cursing and yelling at Lucas "because I'm black." The manager allegedly "cut him off," referring to "you people."
Lucas, who represented himself in the lawsuit, charged Arciga, McDonald's Pacoima general manager Leticia Barrera and the store itself with general negligence, undue mental anguish, intentional infliction of emotional distress, discrimination, slander, defamation of character and loss of earning capacity.
Lucas' subsequent appeals of the case dismissal and of his inclusion on the vexatious litigants' list do not appear to have succeeded.
The Instagram video's presentation of the case contains other errors too. In a 2014 interview with the tabloid news outlet TMZ, Lucas was a middle-aged man. The video depicts him as a seemingly younger man throwing money in the air. It also claims that the customer ordered a Big Mac, when Lucas stated in his court filing that he ordered a Quarter Pounder with Cheese Deluxe.
Ranked as one of the world's largest restaurant chains, McDonald's is a frequent target of incorrect or distorted allegations on social media. Lead Stories has previously debunked other claims about McDonald's here.