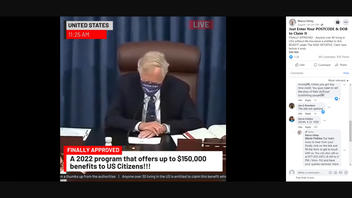 Is there a program approved by "the authorities" offering up to $150,000 in benefits to U.S. citizens? No, that's not true: The claim is one of the many posts on social media that falsely insinuate that people can receive government-approved benefits, illustrated with public-domain images from government chambers. In reality, the "benefits" are just an advertising strategy.
The claim was implied in a Facebook post published on August 1, 2022. The post included a video that opened with a clip of what appeared to be a legislative meeting and superimposed news graphics. The voiceover of the video began:
U.S. citizens finally the big payday is here. This program was proposed in 2021 and has finally gotten a thumbs up from the authorities. Anyone over 30 living in the U.S. is entitled to claim this benefit which is ending soon. Click on the link and check if you can qualify in just two minutes. It is super easy to qualify.
The headline in the video read "FINALLY APPROVED: A 2022 program that offers up to $150,000 benefits to US Citizens!!!"
This is what the post looked like on Facebook at the time of writing: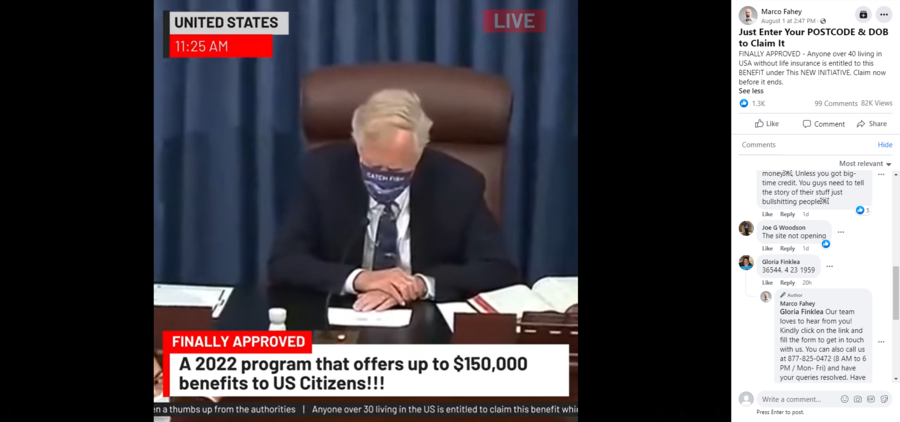 (Source: Facebook screenshot taken on Fri Aug 5 15:16:31 2022 UTC)
The post is clearly an advertisement, as explained at the bottom of the webpage linked in the post (archived here). A screenshot of the webpage -- which is not a part of any official government website -- is included below: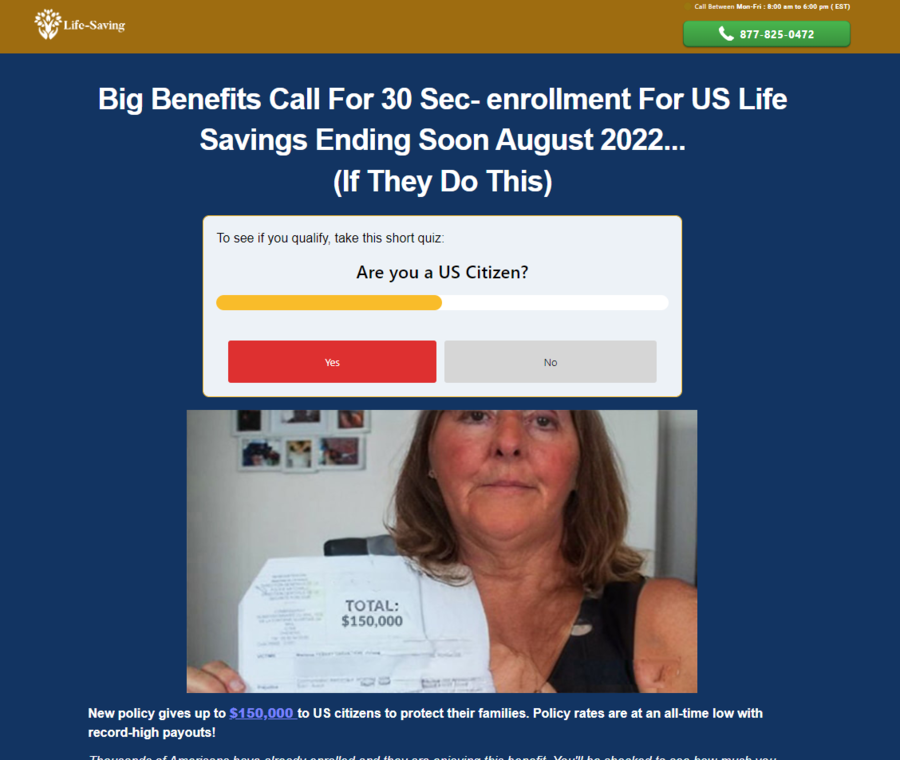 (Source: Life-Saving screenshot taken on Fri Aug 5 16:02:20 2022 UTC)
The video in the Facebook post used a clip of a U.S. Senate session held on September 30, 2021, during which the Senate approved legislation to fund the government until December 3, 2021 (see the 4:23:27 mark of the session video for the clip used in the Facebook post). The clip has nothing to do with a $150,000 benefit for U.S. citizens.
Lead Stories searched for information on government benefits that match the description used in the Facebook post and did not find any description that matched the claim.
Other Lead Stories debunks of similar advertisements can be found here, here and here.