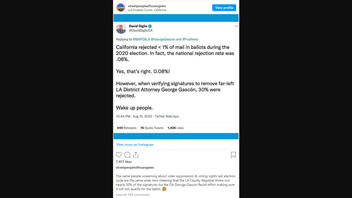 Are the 30 percent of signatures that did not qualify for the recall of the Los Angeles County district attorney the same as ballots rejected in the 2020 election? No, the claim is missing context: Nothing stops an unqualified person from signing a petition to have an issue placed on a ballot. The Los Angeles County Registrar-Recorder/County Clerk verifies that those signatures qualify after they are submitted.
In contrast, a ballot is issued to one individual registered voter and is used to place their vote. Their signature and the validity of their voter registration has already been verified.
Los Angeles County rejected nearly 30 percent of signatures that were submitted for a petition to recall the county district attorney in 2022. Reasons for rejections included signatures from people who were not registered voters, duplications and different addresses, according to the Los Angeles County Registrar-Recorder/County Clerk.
The claim appeared in an Instagram post on August 16, 2022. It opens:
California rejected < 1% of mail in ballots during the 2020 election. In fact, the national rejection rate was .08%. Yes, that's right. 0.08%!

However, when verifying signatures to remove far-left LA District Attorney George Gascón, 30% were rejected.

Wake up people.
This is what the post looked like on Instagram at the time of writing: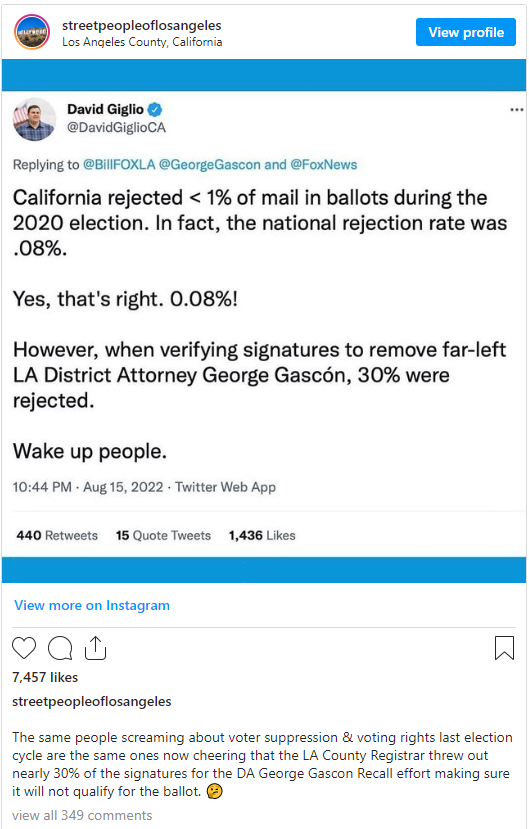 (Source: Instagram screenshot taken on Wed Aug 17 16:48:11 2022 UTC)
The implication in the post is that a much larger number of petition signatures were rejected for a recall versus the number of ballots that were rejected in the most recent presidential election. Rejecting signatures on a petition is not equivalent to rejecting ballots.
The process of a recall in LA County required the organizers to obtain 566,857 valid signatures of registered voters who live in the county. Almost 200,000 of the 716,000 signatures submitted were rejected, which is approximately 27.35 percent or nearly 30 percent, the LA County Registrar-Recorder/County Clerk said in an August 15, 2022 press release.
The causes for rejection of the signatures were listed in the release:
A summary breakdown of the invalid signatures is as follows:
• Not Registered: 88,464
• Max Number of Times Signed (Duplicate): 43,593
• Different Address: 32,187
• Mismatch Signature: 9,490
• Canceled: 7,344
• Out of County Address: 5,374
• Other: 9,331
Here is the process for signature verification for ballots done before a person is issued a ballot:
To register to vote you must complete a voter registration application on paper or online at RegisterToVote.ca.gov. When you register online, the system will search the Department of Motor Vehicles (DMV) database for your California driver license or identification card number, date of birth, and last four digits of your social security number. If your information is found and you authorize elections officials' use of your DMV signature, an electronic image of your DMV signature will be added to your voter registration application after you click "submit" at the end of the online application. If there is no signature on file with DMV, all of your information will be transmitted to your county elections office; you will just need to click "print," sign the paper application, and mail it. Your county elections official will contact you when your voter registration application is approved or if more information is needed to confirm your eligibility.