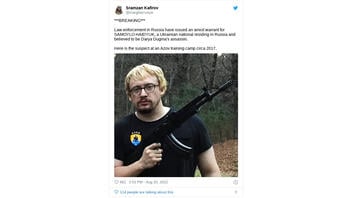 Did a suspect named "Samoylo Haidyuk" have anything to do with the recent killing of Aleksandr Dugin's daughter Darya Dugina? No, that's not true: A tweet making the accusation was using a photoshopped image of comedian Sam Hyde, the latest in a long internet trolling tradition of blaming Hyde for every assasination or shooting that goes viral online. In the recent past Hyde was also falsely blamed for the Shinzo Abe assasination.
This time the claim originated in an August 20, 2022, tweet (archived here) from someone identifying themselves as "Sramzan Kafirov":
***BREAKING***

Law enforcement in Russia have issued an arrest warrant for SAMOYLO HAIDYUK, a Ukrainian national residing in Russia and believed to be Darya Dugina's assassin.

Here is the suspect at an Azov training camp circa 2017. pic.twitter.com/4Lwh9AK9XD

-- Sramzan Kafirov (@margbarrusiye) August 20, 2022
This is what the message looked like on Twitter at the time of writing:
(Source: Twitter screenshot taken on Sun Aug 21 12:12:04 2022 UTC)
Blaming right-wing comedian Sam Hyde of being the suspect after a mass shooting is a strange in-joke that has been going on for years.
Sam Hyde is not the perpetrator of a mass shooting. But whenever a shooter strikes and the news reports casualties, trolls race to name Hyde as the culprit. In the worst cases, authorities have been tricked into giving Hyde's name to the press.
Here is more information about Sam Hyde and the infamous "Sam Hyde Is The Shooter" meme originally propagated by 4chan trolls:
Sam Hyde is an Internet comedian who co-founded the sketch comedy group Million Dollar Extreme and rose to viral video fame after staging a satirical TEDx talk about wonders of the future at Drexel University in October 2013.
Lead Stories has published several stories in the past about killings where Sam Hyde was falsely named as the susupect by trolls on the internet.